In the midst of the debate at the New York State and Federal governmental level of whether or not to raise the Minimum Wage from $7.25/hour ($8/hour in NY) to $8.50/hour, the Tompkins County Workers' Center is creating a Wave that demands that the Minimum Wage be increased to a Living Wage (which is defined in Tompkins County as $12.62/hour). Of course, there are many details of this which will need to be worked out as we go forward: at this point, the point is simply to create The Wave! (Think sports stadiums where people, in unison, get up and Wave their arms as part of a stadium-wide spontaneous event!)
To this end, the TCWC has created yardsigns (a tool that we've found to be fabulous to help create a new consciousness at grassroots levels) that we hope to get up all around the State of New York! You can play a role by having one in your yard or window or wherever. The yardsigns look like this: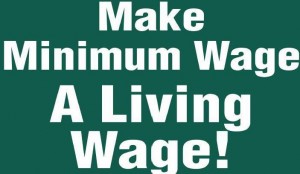 The yardsigns are 16 by 26 inches in size. They are available from the Workers' Center for a suggested donation of $5-$10 or whatever one can afford! We want them up everywhere, so please do not let affordability get in the way of asking for one or more for free.
If you live outside of the Tompkins County, New York area (and in fact, anywhere in the country), we can send them via mail. Contact our office by either responding to this email or calling 607-269-0409 for details!