Are you a restaurant worker, tipped or otherwise–or do you know of a restaurant worker in your work through your Agency–who would be interested in changing the wages that 'tipped' workers receive?
Governor Cuomo has called for a Wage Board to study the state's sub-minimum wage for 
tipped workers – and with the stroke of a pen, the Cuomo administration can end this unfair and 
outdated policy by issuing a wage order requiring employers to directly pay tipped workers the 
full minimum wage, with tips in additio
n.

Did you know that restaurant workers are allowed to be paid a sub-minimum wage by restaurants in New York (in addition to 43 other states nationwide)?
Right now, in the State of New York, the tipped minimum wage for servers is $5/hour ($5.65 for delivery drivers). (The Federal Minimum Wage for tipped workers is even lower, at $2.13/hour!)
Have you ever wondered why the restaurant industry has been given this special dispensation by our governments? (The NYS minimum wage for most workers is presently $8.00/hour; will go up to $8.75 on 12/31/14; and $9.00/hour on 12/31/15. Find complete summary here; also for restaurant workers).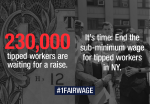 Although employers are legally required to "top off" a tipped worker's pay when it doesn't meet 
the regular minimum wage, enforcement is so lax and disorganized that what's being called 
"wage theft" — employers violating minimum wage, overtime, and other wage and hour laws —
has reached epidemic levels.
In addition, you can submit an online comment to the Wage Board, demanding that they raise the sub-minimum wage to what the NYS minimum wage is, by clicking here http://labor.ny.gov/workerprotection/laborstandards/wageboard2014.shtm/
Also, please sign our TCWC petition at http://afl.salsalabs.com/o/4023/c/200/p/dia/action3/common/public/?action_KEY=9123 that demands that all workers receive the Minimum Wage, not sub-minimum wages!

#1FairWage – Talking Points and Background:
Through the wage board process, Governor Cuomo can deliver fair pay for working women and families across the state by issuing a "wage order" ending New York's sub-minimum wage for tipped workers.

 This wage order would simply require employers to directly pay tipped workers the full minimum wage, as they are already required to do for non-tipped workers.
With the highest inequality in the nation, New York's 229,000 tipped workers simply cannot afford to be paid a meager sub-minimum wage – just $5.00 per hour for food service workers. Ending the sub-minimum wage for tipped workers will boost New York's economy by putting more money in the pockets of low-paid workers who will spend it on basic necessities at local businesses.
Why NY's Workers Deserve #1FairWage :
A TIP IS NOT A WAGE

 –
Tips are meant to be a gratuity for good service, not something that workers rely on to make ends meet – that's what wages are for. But because employers in New York are permitted to pay tipped workers only a meager sub-minimum wage – just $5.00 per hour for food service workers – tipped workers are forced to rely in large part on tips to afford the basics.
WORKING WOMEN NEED #1FairWage –
Women are hurt most by New York's sub-minimum wage for tipped workers
. 70 percent of all tipped workers are women – allowing employers to pay tipped workers a meager sub-minimum wage only further fuels the pay gap between men and women.
7 STATES PAY #1FairWage, SO CAN NY –
Restaurants can afford to directly pay the full minimum wage to all of their workers, just like all other industries do
. Seven states already require employers to pay tipped workers the full minimum wage – and in these states, tipped workers benefit from lower poverty rates and higher wages, and restaurants have adjusted without reducing employment.