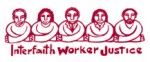 The Interfaith Worker Justice (IWJ) organization is dedicated to furthering workers' rights by supporting unions, workers' centers and other contributors to the labor movement by engaging people of diverse faiths and backgrounds on a national scale.
The Jobs with Justice organization lead campaigns all across the country in an effort to create an economy that benefits everyone, and ensure workers have sufficient rights and protections. They fight for a decent standard of living for all workers by bringing people together and shaping public discourse on issues affecting workers.

The Poverty Initiative is one of the core programs in the Kairos Center for Religions, Rights and Social Justice. It strives to create a social movement led by the poor to end poverty and build a more just society.