News
(ITHACA) The Tompkins County Workers' Center (TCWC) applauds today's historic decision to increase wages of the lowest paid NYS workers putting them closer to a Living Wage. Increasing the minimum wage upstate to only $12.50 (in five years), ​compared to $15 in the rest of the State, ​​​​however, is extremely disappointing. It repudiates the promise that Governor Cuomo made to these workers earlier this year and denies them the same chance to approach a Living Wage as all other workers in the state.
The TCWC began its own campaign for a Countywide Minimum Wage that is a Living Wage (presently $14.34/hour in Tompkins County) in the spring of 2015. Says campaign Organizing Committee Member, Milton Webb (a recycling worker at Tompkins County Recycling whose leadership helped him and his co-workers win a raise to a Living Wage last year): "Everyone everywhere in New York State needs to be making a minimum of $15/hour RIGHT NOW! No one can reasonably live on $9.75/hour."
"The incredibly high cost of living in Tompkins County translates into many workers falling far short of a family sustaining livelihood even with the increase. The TCWC will continue its efforts for a true Living Wage for all workers in Tompkins County, and will support the right of workers to organize for collective bargaining and against Wage Theft, especially as the minimum wage rises," said Pete Meyers, Coordinator of the TCWC.
Says Lorie Compton, a Direct Service Professional at the Franziska Racker Center in Ithaca and a mother of two: "I'm very disappointed that the wage isn't going up higher or quicker in Upstate New York. I make $11.40 an hour and can barely make ends meet. I have to pay rent. I have to buy groceries. Perhaps management should consider taking a cut in profit rates and excessively high managerial salaries so that other people who are doing the hard work can make a Living Wage, a wage we need just to survive!"
Says Erin Leidy, a longtime worker in various transportation industries, and a resident of the rural Tompkins County community, Dryden, NY: "Any increase is welcome but I think the timelines make the increases much less impactful. Additionally, I'm aware that the overall cost of living is higher in the city than upstate but that is primarily caused by rents. There are parts of upstate (like Ithaca) where the rental markets look more like parts of the city than people think. I feel like I have to live in Dryden because of the cost of rent in Ithaca."
Adil Griguihi, Owner of Casablanca Pizzeria in Ithaca says: "If they give an increase to New Yorkers, it should be the same increase at the same time for everyone. The rent is expensive in Tompkins County; EVERYTHING is expensive here. Even $15 is not enough. But the State should also be figuring out a way to help small business owners pay this wage. "
"It's important for us to remember that a Living Wage is defined at what Minimum Wage should be, on a local level, based on real costs to live," says Rob Brown, staff person for the TCWC. "While the State's new three-tier plan recognizes that New York City is an especially expensive place to live, it falls short of acknowledging that the same is true in Upstate communities. Tompkins County has been in the national news this past year for being one of the most expensive places in the US, not just NY, for health insurance, housing, and other costs of living. We need local leaders in the workforce, in business, and in government to stand up and show that we can also lead in making sure our neighbors earn what they need."
Saturday, March 26: 7 PM (social hour), concert from 8 to 10 PM @ First Unitarian Society of Ithaca (corner of  N. Aurora and E. Buffalo Sts. in Ithaca).

Suggested donation $10-$15-$20, no one turned away for lack of funds.
Free snacks; beer and wine will be available for a donation

A night of community and songs of social significance is planned for Saturday night, March 26. The concert will feature acclaimed topical songwriter David Rovics from Portland, Oregon, who tours the world singing and writing songs of struggle, Ithaca local George Mann, and others to be announced. (Check out the great Rovics song, Minimum Wage Strike.) David and George recently performed on the west coast leg of the "Joe Hill 100 Roadshow," a nationwide tour that featured the music and words of Joe Hill, executed in November 1915 in the state of Utah. David's music has been featured many times on "Democracy Now" and his songs are powerful statements on the issues of the day. Both he and George have a long history of singing and writing songs for the labor and anti-war movements.
The evening will also be a chance for the Tompkins County Workers' Center to build support for its "Fight for $15" living wage initiative. TCWC representatives will speak briefly about the effort,  as well as workers from other local worker struggles. The event will start with a social hour, then move to the speaking and music part of the program. The program is cosponsored by the Social Justice Council of the First Unitarian Society of Ithaca.
Tickets available in advance through the Workers' Center (607-269-0409; 115 The Commons).
(Ithaca) The Tompkins County Workers' Center is pleased to announce that we have now certified 104 employers as being Living Wage Employers, having just recently added the Town of Enfield on the western border of Tompkins County.
The Town of Enfield employs a total of 22 workers. This brings the total of workers, countywide, who are working for Living Wage Employers up to over 3,088 people. Additionally, the Town of Enfield joins the following government entities in Tompkins County as Living Wage Employers: City of Ithaca; Tompkins County; Town of Caroline; Town of Danby and the Town of Ithaca.
Says Ann Rider, Supervisor for the Town of Enfield, on why it was important for the Town to become Certified as Living Wage : "I believe that government should be leaders and this was one thing we can do to be a socially-conscious leader in the community."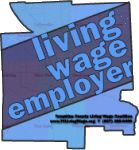 The Workers' Center initiated the Living Wage Employer Certification Program in 2006 to publicly recognize and reward those employers who pay a living wage. Any employer in the private, public, and non-profit sectors is eligible to apply. With your help, we can provide incentives for other employers in our community! Please go to http://www.tcworkerscenter.org/community/certified-employers/ to find out which employers are Living Wage-Certified, as well as to download criteria and an application form.
Here's why a Living Wage is so important for Tompkins County families. Did you know that one third of of the students in the Ithaca City School District qualify for the federal free school lunch program? That's means their caregivers do not earn a Living Wage.  More exactly that's less than $21,000/year for a 2-person family; $26,000/year for a 3-person family; $31,000 for a 4-person family.  In some other Tompkins County school districts, the situation is much worse: In Dryden almost half the students qualify for free or reduced price lunch.  In Freeville it's over half the students whose family income is so low they qualify.
It is incredibly important that human services and Medicaid-funded workers, as well as the larger community, speak out now in support of increasing the State Minimum Wage to $15 AND ensuring that the State provide the added funding and reimbursements to make this happen.
Please speak out on this issue by texting 877877 now (put FIGHTFOR15 in the body of the text). You will be prompted to enter your address and you then will be connected to your NY State Senate representative's office.
You can also call directly. Call your state senator (see list below for which senators represent which towns in Tompkins County) and ask for his support!
Tompkins County State Senators are:
Tom O'Mara (City of Ithaca, towns of Enfield, Ithaca, Newfield, Ulysses) – 518-455-2091;
James Seward (Towns of Caroline, Danby, Dryden, Groton) – 518-455-3131;
If you live OUTSIDE of Tompkins County and are unsure of who your State Senator is, go to https://www.nysenate.gov/find-my-senator
Please also call NYS Assemblyperson Barbara Lifton at 607-277-8030 (who represents all of Tompkins County and parts of Cortland) and thank her for supporting the $15/hr proposal and ask her to support increased funding for state contracts. If you live outside of Lifton's district, go to http://assembly.state.ny.us/mem/search/ to find out who your Assemblyperson is.
Why is this so important? Because over 200,000 human services and Medicaid-funded workers across the state are paid less than $15/hour or 57% of the total workforce! In fact over one-third of the workforce earns less than $11.50! Despite being a highly skilled workforce (two-thirds of you have some college education and close to half hold a bachelor's degrees or higher) the human services sector has one of the highest prevalence of low-wages in the private sector, behind food service and retail. This means that you are often eligible for the same public benefits as your clients. You give and give because you love this important work, but in the end you don't get enough back for yourself and your family.
Read more
"The New York State League of Women Voters supports a Living Wage, based on the League's national position about meeting basic human needs. A Living Wage should provide sufficient income without government assistance, for food, clothing, housing, energy, transportation, health care, education, child care and a small amount of discretionary income." 

To help in understanding of this issue in our community, the Tompkins County League of Women Voters is presenting a program, open to the public, at 7:00 PM on Monday, February 22 at the Tompkins County Public Library. A panel of three will describe various aspects of a "Living Wage" here in Tompkins County and how it can be implemented.
The speakers are:
Karl Graham: Alternatives Federal Credit Union, Director of Community Relations and Development. He will describe how the living wage for Tompkins County is calculated and the Alternatives experience;
Sue Dale Hall: Director, Child Development Council, a Certified Living Wage Employer. She will describe her agency's implementation of a Living Wage and problems and challenges.
(CAROLINE, NY) The Caroline Town Board , by a 4-1 vote, has called on the Tompkins County Legislature to move toward establishing the Living Wage as the Minimum Wage for all employees working within the county borders.  The vote took place at the Caroline Town Board meeting on Wednesday evening, February 10th.
Caroline is the third local government body to heed the call of the Tompkins County Workers' Center (TCWC) which has been organizing to mandate the county's Living Wage of $14.34 as the new Minimum Wage. Both the Town and the City of Ithaca previously also voted (in both cases, unanimously) to also endorse a County Living Wage.
"With over one-third of the children at Caroline Elementary School in families with incomes so low that they qualify for the free lunch program," said Pete Meyers, TCWC Coordinator, "it is clear that the lack of a Living Wage impacts deeply on the population of the Town."
Town Board member Irene Weiser added: "Because the cost of living varies from community to community, municipalities should be allowed to set a living minimum wage for their residents.  I urge Tompkins County to play a leadership role in pointing New York in this important new direction."
See Text of the Resolution below:

Sign the Petition: I Support Raising the Minimum Wage to a Living Wage in Tompkins County!

"For the past two years, I have worked 40 hours a week as a Direct Support Professional with developmentally disabled adults in Tompkins County. I make $11.06/hour. The biggest problem I face is being constantly in debt. I have 2 daughters and we live paycheck to paycheck. We never know if we'll have enough to make all the bills. I eat once a day and depend on Public Assistance (Medicaid). We pay $600/month rent for a small two bedroom house on the edges of the Tompkins County; but our landlord is a slumlord. Paid $2000 for kerosene last winter and now have to get ready to purchase it for the upcoming winter season. I feel depressed about the wages-can't even take in a movie with my kids, let alone help them through college." (Anna G. who came to the Workers' Center about our campaign)
The Living Wage in Tompkins County is $14.34/hour. We believe the cost of doing business in Tompkins County MUST INCLUDE the dignity and worth of each human being that is PERFORMING that work. Our campaign is linked to and part of the statewide and national Fight for $15 movement.
If you're wondering how YOU can support this groundbreaking campaign, here's how you can help:
Evangeline Sarat brings a powerful passion to operating her CSA, Sweet Land Farm in Trumansburg, NY. Being a Living Wage Employer is all part of her commitment to a truly healthy, sustainable community.

"I had no choice but to be a Living Wage Employer. I have a passion for farming, a vision of what life is. Being a farmer can be an all-consuming life. The employees allow me time to also have a life with my children, ages 7 and 12. They are helping me grow vibrant, healthy food in a healthy farming system. It only makes sense to me that they are supported. How could I not create opportunities for them to support themselves?"
Her employees share her vision.
"Not only does Sweet Land grow amazing produce and work to make their products financially accessible, by paying a Living Wage, Sweet Land is a sustainable job creator. How many companies work to accomplish these three things? Being a member of Sweet Land Farm is more than just a share, it is an opportunity to have access to nutritious food while also supporting others in the community through having Living Wage employment and supporting a local food system that makes healthy food accessible to so many more. " Sasha Salayda

Sweet Land is located 9732 State Road 96, Trumansburg, and can be contacted at 607.793.1566 or sweetlandfarmcsa@gmail.com
(ITHACA) The Tompkins County Workers' Center (TCWC) mounted simultaneous Fight for $15 Living Wage Vigils at fifteen (15) fast food restaurants throughout Tompkins County on MLK Day. About 75 living wage supporters and activists braved extremely cold weather to conduct the one hour vigils (3:30-4:30 at each location).
Four of the vigils were organized in collaboration with TCWC by supportive community organizations with participants exclusively from those organizations, including the Ithaca College Adjunct Professors Union and the Midstate Central Labor Council (McDonalds/Elmira Rd.), Ithaca Catholic Worker (Dunkin Donuts/Elmira Rd.), Labor-Religion Coalition (Five Guys/Taco Bell), Ithaca DSA (Chipotle), and the Ithaca Teachers Assn (Domino's-Gateway Plaza). A complete list of the locations is at the bottom.
At all of the locations team leaders first went into the restaurants to inform manager/workers of the action and also to ensure that all were being paid the newly mandated fast food minimum wage of $9.75. Information sheets were also provided. The response from managers/workers was uniformly positive (except Dunkin Donuts in Dryden). In some cases important conversations ensued.   Workers indicated that even at the new minimum wage or even higher wages earned by some managers ($12/hour for example in one case) it was not a living wage or enough to support a family. At all locations there were many honks and supportive indications from passing motorists. Lots of traffic at all sites.
« Later posts
—
Earlier posts »