News
Please join the Tompkins County Workers' Center (TCWC) as we stand together against corporate greed and in support of middle class jobs in solidarity with workers from CWA (Communications Workers of America) who are on strike at Verizon. Their battle is our battle too and they need our help. (See fact sheet here.)
Less than a week ago, the TCWC began it's ongoing solidarity support with the CWA which we ALSO see as building a public and community space for the larger labor movement (both organized and un-organized) to gather together. The excitement at these 'actions' is palpable.
We will be standing with these workers and against corporate greed at the Verizon Wireless store in Ithaca, NY (only one of four corporately-owned stores in the Southern Tier), 720 S. Meadow Street in the Tops Plaza at the following times:
(Ithaca) The Tompkins County Workers' Center is pleased to announce that it has now recognized 107 area businesses and organizations as Certified Living Wage Employers, with the addition of an historic non-profit and an anchor union in the Ithaca community, and the nine workers at these organizations.
What: National Labor Relations Board Hearing Against Cayuga Medical Center (CMC) for federal Unfair Labor Practices (ULPs) Continues
Where: 214 W. State St, Ithaca (County Office for Aging, corner Albany and W. MLK/State)
The Dryden Town Board, by a unanimous 5-0 vote, has called on the Tompkins County Legislature to move toward establishing the Living Wage as the Minimum Wage for all employees working within the county borders.  The vote took place at the Dryden Town Board meeting on Thursday, April 21st.
The Town of Dryden  is the fourth local government body to heed the call of the Tompkins County Workers' Center (TCWC) which has been organizing to mandate the county's Living Wage of $14.34 as the new Minimum Wage. Both the Town and the City of Ithaca as well as the Town of Caroline previously also voted to also endorse a County Living Wage. Together these locales who support this measure comprise approximately 67% of the County's population.
"A lot of the work I do in my law practice is to work with the working poor", said Jason Leifer, Dryden Town Supervisor.  "There are many people working 30-40 hours a week and they are not able to meet their family's needs and they're still getting services from the County. The current minimum wage enables big companies to get away with not paying people what they should and the public side has to make up the difference. Had I grown up in Dryden, I would've been one of the 46% that received free and reduced lunch in the Dryden Central School District."
Who/What: We, the Community and Striking Verizon Workers
Where: Verizon Store @ Tops Plaza on Meadow Street in Ithaca [parking easily accessible throughout Tops Plaza]
When: Tuesday, April 26th, from 12-2 p.m.
Please join the Tompkins County Workers' Center in our show of support and solidarity with workers from the Communications Workers of America who are among the 15,000 workers in New York on strike at Verizon. [See detailed fact sheet here.]
Verizon workers from Massachusetts to Virginia are on strike because management refuses to back off its demands that would destroy good jobs. Verizon is a stunningly profitable and greedy corporation that cares nothing about consumers and workers. Their only objective is to line the pockets of executives and drive up their Wall Street share price.
FILM SHOWING OF 'A DAY'S WORK'; SUNDAY, MAY 1st, 4:30 – 6:30 p.m. @ Cinemapolis, 120 E. Green Street, Ithaca
Suggested Donation $10, no one will be turned away for lack of funds
Including audience discussion with the filmmaker, Dave DeSario and OSHA Compliance Specialist, Ron Williams, at conclusion of film.
Recently, Carlos Gutierrez, Safety and Health Trainer for the Tompkins County Workers' Center, performed a training in Occupational Safety and Health Rights for a group of immigrants, who are working in mall maintenance. When Carlos asked one of the workers just who he worked for, the young man replied, "Frank." It turns out they work through a temporary agency, but work full time in the Carousel Mall in Syracuse. So, who is responsible if there is a safety or health issue at their workplace: 1) "Frank"?, 2) the temp agency? or 3) the Mall?
Day Davis' family found out the hard way that no one took responsibility for Day. On his first day at a temp job at a Baccardi Rum bottling factory in Florida, he was killed as a result of callous disregard for the young man's life.
Join us for a showing of the film telling Day Davis' story and how his family dealt with the aftermath of his tragic death. The movie also explores the fastest growing class of American workers – temporary and contingent workers.
(ITHACA) The Tompkins County Workers' Center (TCWC) applauds today's historic decision to increase wages of the lowest paid NYS workers putting them closer to a Living Wage. Increasing the minimum wage upstate to only $12.50 (in five years), ​compared to $15 in the rest of the State, ​​​​however, is extremely disappointing. It repudiates the promise that Governor Cuomo made to these workers earlier this year and denies them the same chance to approach a Living Wage as all other workers in the state.
The TCWC began its own campaign for a Countywide Minimum Wage that is a Living Wage (presently $14.34/hour in Tompkins County) in the spring of 2015. Says campaign Organizing Committee Member, Milton Webb (a recycling worker at Tompkins County Recycling whose leadership helped him and his co-workers win a raise to a Living Wage last year): "Everyone everywhere in New York State needs to be making a minimum of $15/hour RIGHT NOW! No one can reasonably live on $9.75/hour."
"The incredibly high cost of living in Tompkins County translates into many workers falling far short of a family sustaining livelihood even with the increase. The TCWC will continue its efforts for a true Living Wage for all workers in Tompkins County, and will support the right of workers to organize for collective bargaining and against Wage Theft, especially as the minimum wage rises," said Pete Meyers, Coordinator of the TCWC.
Says Lorie Compton, a Direct Service Professional at the Franziska Racker Center in Ithaca and a mother of two: "I'm very disappointed that the wage isn't going up higher or quicker in Upstate New York. I make $11.40 an hour and can barely make ends meet. I have to pay rent. I have to buy groceries. Perhaps management should consider taking a cut in profit rates and excessively high managerial salaries so that other people who are doing the hard work can make a Living Wage, a wage we need just to survive!"
Says Erin Leidy, a longtime worker in various transportation industries, and a resident of the rural Tompkins County community, Dryden, NY: "Any increase is welcome but I think the timelines make the increases much less impactful. Additionally, I'm aware that the overall cost of living is higher in the city than upstate but that is primarily caused by rents. There are parts of upstate (like Ithaca) where the rental markets look more like parts of the city than people think. I feel like I have to live in Dryden because of the cost of rent in Ithaca."
Adil Griguihi, Owner of Casablanca Pizzeria in Ithaca says: "If they give an increase to New Yorkers, it should be the same increase at the same time for everyone. The rent is expensive in Tompkins County; EVERYTHING is expensive here. Even $15 is not enough. But the State should also be figuring out a way to help small business owners pay this wage. "
"It's important for us to remember that a Living Wage is defined at what Minimum Wage should be, on a local level, based on real costs to live," says Rob Brown, staff person for the TCWC. "While the State's new three-tier plan recognizes that New York City is an especially expensive place to live, it falls short of acknowledging that the same is true in Upstate communities. Tompkins County has been in the national news this past year for being one of the most expensive places in the US, not just NY, for health insurance, housing, and other costs of living. We need local leaders in the workforce, in business, and in government to stand up and show that we can also lead in making sure our neighbors earn what they need."
Saturday, March 26: 7 PM (social hour), concert from 8 to 10 PM @ First Unitarian Society of Ithaca (corner of  N. Aurora and E. Buffalo Sts. in Ithaca).

Suggested donation $10-$15-$20, no one turned away for lack of funds.
Free snacks; beer and wine will be available for a donation

A night of community and songs of social significance is planned for Saturday night, March 26. The concert will feature acclaimed topical songwriter David Rovics from Portland, Oregon, who tours the world singing and writing songs of struggle, Ithaca local George Mann, and others to be announced. (Check out the great Rovics song, Minimum Wage Strike.) David and George recently performed on the west coast leg of the "Joe Hill 100 Roadshow," a nationwide tour that featured the music and words of Joe Hill, executed in November 1915 in the state of Utah. David's music has been featured many times on "Democracy Now" and his songs are powerful statements on the issues of the day. Both he and George have a long history of singing and writing songs for the labor and anti-war movements.
The evening will also be a chance for the Tompkins County Workers' Center to build support for its "Fight for $15" living wage initiative. TCWC representatives will speak briefly about the effort,  as well as workers from other local worker struggles. The event will start with a social hour, then move to the speaking and music part of the program. The program is cosponsored by the Social Justice Council of the First Unitarian Society of Ithaca.
Tickets available in advance through the Workers' Center (607-269-0409; 115 The Commons).
(Ithaca) The Tompkins County Workers' Center is pleased to announce that we have now certified 104 employers as being Living Wage Employers, having just recently added the Town of Enfield on the western border of Tompkins County.
The Town of Enfield employs a total of 22 workers. This brings the total of workers, countywide, who are working for Living Wage Employers up to over 3,088 people. Additionally, the Town of Enfield joins the following government entities in Tompkins County as Living Wage Employers: City of Ithaca; Tompkins County; Town of Caroline; Town of Danby and the Town of Ithaca.
Says Ann Rider, Supervisor for the Town of Enfield, on why it was important for the Town to become Certified as Living Wage : "I believe that government should be leaders and this was one thing we can do to be a socially-conscious leader in the community."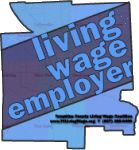 The Workers' Center initiated the Living Wage Employer Certification Program in 2006 to publicly recognize and reward those employers who pay a living wage. Any employer in the private, public, and non-profit sectors is eligible to apply. With your help, we can provide incentives for other employers in our community! Please go to http://www.tcworkerscenter.org/community/certified-employers/ to find out which employers are Living Wage-Certified, as well as to download criteria and an application form.
Here's why a Living Wage is so important for Tompkins County families. Did you know that one third of of the students in the Ithaca City School District qualify for the federal free school lunch program? That's means their caregivers do not earn a Living Wage.  More exactly that's less than $21,000/year for a 2-person family; $26,000/year for a 3-person family; $31,000 for a 4-person family.  In some other Tompkins County school districts, the situation is much worse: In Dryden almost half the students qualify for free or reduced price lunch.  In Freeville it's over half the students whose family income is so low they qualify.
« Later posts
—
Earlier posts »