News
Why should you stand with fast food workers? Because fast food's low wages are a cost to all of us! Check out our Tompkins County Workers' Center 'action' in collaboration with the incredible Cornell Organization for Labor Action, at McDonald's on Triphammer Road last night in Ithaca! We're demanding a Living Wage for all fast food workers, as well as for *all* workers!
(Ithaca) The Tompkins County Workers' Center is pleased to announce that we now have certified 92 employers as being Living Wage Employers, having just added the following:
· Crown Construction, Inc., 176 Cortland Road, Dryden
· Finger Lakes Naturals, 67 Hornbrook Road, Ithaca
· Friendship Donations Network, P.O. Box 4854, Ithaca
· Ithaca Cayuga Optical Services, 134 The Commons, Ithaca
· Ithaca Teachers Association, 1375 N. Cayuga Street, Ithaca
· Julia E. Dean Pottery, 508 S. Albany Street, Ithaca
· Nutritional Wellness Center, 520 W. Green Street, Ithaca
· Segal and Sorenson Builders, 218 Hudson Street, Ithaca
· Silk Oak/Ithacamade, 425 N. Aurora Street, Ithaca
The nine new Living Wage-Certified Employers employ a total of 44 workers; this brings the total of workers, countywide and regionally, who are working for Living Wage Employers up to over 2,504 people.
The Workers' Center initiated the Living Wage Employer Certification Program in 2006 to publicly recognize and reward those employers who pay a living wage. Any employer in the private, public, and non-profit sectors is eligible to apply. With your help, we can provide incentives for other employers in our community! Please go to http://www.tcworkerscenter.org/community/certified-employers/ to find out which employers are Living Wage-Certified, as well as to download criteria and an application form.
The Tompkins County Workers' Center is gathering folks to rally outside of Wal-Mart on Black Friday, which falls on November 29th. We will be meeting on the sidewalk on Route 13 (in front of Pier One), entrance into one of the Wal-Mart entry points) in Ithaca, from 9 to 11 a.m. that morning, to show our support for the employees of Wal-Mart and against corporate greed.
Recently the National Labor Relations Board (NLRB) found that Wal-Mart has violated labor law, due to their retaliatory actions against staff who have organized to improve their workplace. There has been a growing movement of low wage workers, not only from Wal-Mart but also many fast food chains, for improved conditions at work and a Living Wage. We want to make sure that we show our support by gathering on the busiest shopping day of the year in an effort to bring public attention to these workers plight.
Read more
https://www.aflcio.org/Blog/Organizing-Bargaining/How-Can-Worker-Centers-Work-with-Traditional-Unions
How can worker centers work effectively alongside organized labor? This is a question that the Tompkins County Workers' Center (TCWC), based in Ithaca, N.Y., has been answering in practice for more than 10 years.
Established in 2003, TCWC expanded on its pre-existing living wage advocacy and organizing by adding a workers' rights component to its work. This program was very much modeled on the Cortland County (N.Y.) Workers' Rights Board that local unions had established in a nearby community in 1997. Since then, TCWC has worked closely with labor.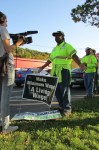 Organizing
In the past few years, TCWC has been critical in two successful union organizing drives. Both drives started after workers came to TCWC with workplace grievances and we connected them with organized labor. In one case, TCWC connected 35 charter school teachers and other employees with New York State United Teachers (NYSUT), an affiliate of AFT, and with NYSUT's help achieved voluntary recognition from management. In the other case, workers for a local nonprofit, Tompkins Community Action, had repeatedly over a few years contacted the Workers' Center with a range of grievances. Finally, TCWC developed, over several months, a strong core of workers interested in unionization and then worked with Painters and Allied Trades (IUPAT) District Council 4 to build and eventually win an organizing campaign and then help the 75 workers win their first contract.
Read more
Over 25 people showed up at the Tompkins County Workers' Center presentation of 1,157 signatures upon a petition that says that there should be A Living Wage for All Tompkins County-Contracted Workers this past Tuesday, 10/15 at County Legislature.
The petition is ongoing: if you haven't signed yet and live in Tompkins County, please click here!
On September 17th, at the Tompkins County Legislature, and September 27th, at ReCommunity Recycling, over 175 people rallied to show support for our campaign to ensure that all Tompkins County-contracted workers are paid a Living Wage.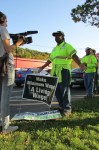 ReCommunity Recycling Workers, Milton Webb and Stanley McPherson, join with over 85 others at a Rally in front of ReCommunity on Friday, September 27th.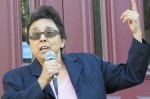 County Legislator, Kathy Luz Herrera, speaking at Rally in front of County Legislator on a need for a Living Wage for all County-contracted workers.
At the September 17th rally, County Legislator, Kathy Luz Herrera had the following to say: "This is an investment in community. Paying contractors a living wage is something we should do as a matter of course. That we have to fight for it shows how broken our system is. I think the legislature is going to come through and understand that to build community here, to build the economy here, for people, not for corporations, we need to pay a living wage."
Read more
(ITHACA) Over 400 community members gathered today to enjoy 30th annual free Labor Day picnic at Stewart Park in Ithaca today. The event was sponsored by the Midstate Central Labor Council, AFL-CIO, and the Tompkins County Workers' Center. Workers and families were joined by faith and community leaders to honor Labor Day, to celebrate solidarity and to recognize the contributions workers make to our community every day.
The theme of this year's picnic was "Workers of the Community Unite!" The theme of united workers was reflected in the Annual Awards which were given to both union and non-union workers for their courage, activism, and solidarity in fighting for workers rights.
Midstate Labor Council President Tom Sieling said "We celebrate Labor Day to honor all workers and because we believe all workers deserve respect, a living wage, a safe place to work, and the right to organize and have a voice on the job."
Pete Meyers, Director of the Tompkins County Workers' Center said, "This past year has been the most exciting one in the history of the Workers' Center as we saw workers coming through our Workers Rights Hotline successfully organize two unions as a way to address their workplace grievances. We saw two workers from a County-contracted agency take amazing leadership to ensure that County-contracted workers are paid a Living Wage! We are very excited about the future prospects of organized labor joining together with those workers that are not organized and thereby creating a new labor movement!"
Read more
Editor's Note: As many of you will remember, the Tompkins County Workers' Center (TCWC) mobilized numerous people to speak out at Tompkins County Development Agency meetings in mid-March 2013 to speak out against the utter simplicity that major corporations have these days in Ithaca and Tompkins County in obtaining multi-year tax abatements for their projects. In March, the case we spoke up about was the Hotel Ithaca project that would carry a deluxe brand of a Marriott Hotel on The Commons, just behind Madeline's Restaurant situated in a small space abutting Green St.
Many of you will not know that the City of Ithaca smoothed the way to making tax subsidies to such corporations exceedingly easier in November 2012 through its CIITAP Program (Community Investment Incentive Tax Abatement). The City of Ithaca's prior program differs from the current program in two ways: not only did the CIIP (Community Investment Incentive Program) include a development's commitment to providing community benefits as a consideration in qualifying for a tax abatement, but it also required the endorsement of Common Council. Under the City's CIITAP Program, a developer need only show that the project fulfills three requirements: 1) an increase in assessable property value of $500,000; 2) that the building be 3 storys or restore a current building; and 3) is located in the specified zone which targets downtown, West State/MLK Jr. Street, and the West End/Inlet Island areas.
It is the position of the TCWC that no corporation should get such multi-year tax abatements unless they can demonstrate that everyone involved with the proposed business project meet three criteria: 1) everyone involved with the building of the project, as well as those that will be working in the finished product, will be making a Living Wage as defined and updated by Alternatives Federal Credit Union every two years; 2) that the developers and the finished product will have a Diversity Hiring Plan in place; 3) that local labor will be utilized in a majority fashion in the building of the project.
Read more
In response to pressure from the Tompkins County Workers' Center and a group of concerned citizens, the Tompkins County Legislature has created a Living Wage Working Group to review its current Living Wage Policy as it relates to businesses that have service contracts with the County.
The TCWC's goal is to ensure that the Tompkins County Legislature's commitment to a Living Wage extends to individuals employed by businesses and organizations that contract with the County. Our work, and why we come to you now, is to insure that the Legislature will strengthen the language in its service contracts to require sub-contractors to pay at least a Living Wage, recently updated by Alternatives Federal Credit Union to $12.62/hour or $13.94/hour without health insurance.
We expect the issue to move from the Working Group to the full Legislature in June and July. (Since this is a County issue, we ask that you sign only if you live in Tompkins County).
We recognize that some local nonprofit agencies truly may not be able to afford to pay their workers at least a Living Wage. We do not want to risk a reduction in nonprofit services to the community, thus we are agreeing to the potential of a small increase in County taxes to help subsidize the Living Wage where absolutely necessary.
Sign the Petition That Says: I Am in Support of a Living Wage for All Tompkins County Contracted Workers and Workers Employed by Businesses That Receive Economic or Community Development Assistance
Read more
Dreaming of a well-paying job in the fracking industry? Think twice.
While jobs in fracking may offer high pay, they come at a price. A worker may get a job — and never be able to work again. Workers are often the first to be exposed to the hazards that later affect the whole community.
There are three health and safety areas that affect fracking workers:
1) Chemical exposures. NIOSH is only beginning to investigate, and it is hard to pinpoint cause and effect, because companies disclose only a small part of the chemicals they use. However, injured workers are beginning to speak out: https://www.facebook.com/GasVets. These workers are finally finding one another and determining that there is a pattern to their severe illnesses.
Randy Moyer of Portage PA was disabled by exposure to chemicals and radiation. He states emphatically that fracking must be stopped. His symptoms are painful rashes, headaches, migraines, chest pain, irregular heartbeat, back and leg pains, blurred vision, vertigo, memory loss, white noise in his ears, and difficulties breathing. Footage of his and others' testimony will soon be available in Tompkins County.
The chemical exposure issues are also of concern to first responders.
2) Exposure to sand dust. http://www.environmentalhealthproject.org/wp-content/uploads/2012/07/OSHA_NIOSH-Hazard-Alert.pdf
3) Trucking and machinery accidents. http://www.motherjones.com/environment/2012/11/fracking-safety-north-dakota
Thus the claims that fracking could even temporarily provide good jobs must be met with skepticism.
« Later posts
—
Earlier posts »