News
April 28 is Workers' Memorial Day, which is when we remember those who have suffered and died on the job from workplace injuries and diseases. Nearly 5,000 workers die on the job in the U.S. every year. This year's event is in memory of Francisco Ortiz, a Mexican dairy farmworker who was killed on a Town of Ithaca farm on February 5, 2013. Ortiz was pulled into a moving augur, a preventable tragedy. How can we stop these tragedies?
On Monday, April 28th, a speaker's panel, followed by community response, will be talking about the dire situation of dairy farmworkers in Upstate New York. The event will take place from 6:30 to 8:30 p.m. in the Borg-Warner Room at the Tompkins County Public Library (101 E. Green St., Ithaca) featuring the following speakers:
**Jose Canas: New York Dairy Farmworker; and
**Christopher Adams, Area Director of the Occupational Health and Safety Administration, OSHA, who will explain the Local Emphasis Program, which is to educate New York dairy farm owners about their responsibilities under OSHA and begin selected farm inspections in July 2014.
Read more
"It is fundamental to any conception of democracy that workers have freedom at work and a voice in the democratic process. Too many of today's workers lack both. The result: rising inequality, plummeting wages and working conditions, and a national anxiety that defines our generation." (from the National Guestworker Alliance)
Several weeks ago, TCWC staffers Carlos Gutierrez and Pete Meyers traveled to the Ford Foundation in NYC for a three-day conference on The Future of Work, looking at issues facing an ever-increasing swath of workers whom could be broadly defined as 'contingent workers'. It was one of those conferences that was both exciting and tremendously depressing. Exciting because of the players, nationally, that are beginning to organize a new response to where we are going as a society, work-wise. Depressing because we, as a society, are entering into an era of work that threatens to seriously undermine workers rights and any ability to live in dignity.
Spurred on initially by the National Guestworker Alliance (NGA), and now joined by Jobs with Justice, and the National People's Action Network, the Future of Work campaign (under which the TCWC is one of 14 Workers' Center's to be participating) endeavors to create a national and international campaign. The proposed campaign addresses the employment issues that are ultimately all interrelated and connected to, as Saket Soni, Executive Director of the NGA says: the "corporate power that is driving this change in employment, which shifts the cost and responsibility to the shoulders of workers."
We estimate that roughly 50% of the people who contact our Workers' Rights Hotline are contingent workers in one form or another, and we have built campaigns around some of these cases in the past. Some examples of contingent work, broadly defined, include:
Read more
The Tompkins County Workers' Center (TCWC) announces that it will hold a Community Celebration on Wednesday, January 29th, from 5:30 to 7 p.m. at the Workers' Center (115 The Commons/E. Martin Luther King Jr. Street in Ithaca) where free pizza, beer, and wine will be served. The purpose of the celebration is to honor two recent and significant victories in the TCWC's Living Wage work:
-The successful Living Wage Employer Certification of the City of Ithaca in early December 2013 (the TCWC's 93rd Living Wage Employer);
-The decision of the Tompkins County Legislature to set up a $100,000 Living Wage Contingency Fund as part of its 2014 Budget in order to begin helping those employers that contract with the County, who couldn't otherwise afford it, to pay their workers a Living Wage. The County itself is a long-standing Certified Living Wage Employer;
Read more
[Editor's Note: This special news is a result of a growing Alliance of Upstate New York Workers' Centers. Rebecca Fuentes works with the Central New York Workers' Center based in Syracuse, and Carly Fox works with the Workers Justice Center of NY. The Tompkins County Workers' Center is proud to be a part of this growing collaboration of Workers' Centers based in Upstate New York!]
By Carly Fox & Rebecca Fuentes
"We are all human beings. We all live under the same sky. The only thing that is different about us is a piece of paper. The owners of the dairy farms aren't the ones milking the cows. We are milking the cows. We are working overnight shifts, milking hundreds of thousands of cows every day. And we know that the dairy industry in New York State is thriving because of our hard work. All we are asking for is respect." Augusto, dairy farmworker
Read more
Our Vision at the Tompkins County Workers' Center is our driving force. Check this video out to feel it for yourself:
Whether are able to donate your time; your money; or your creative energies, please consider giving to the Tompkins County Workers' Center, by clicking here. We are 87% of the way towards our 2013 Fundraising Goal: please help by supporting us with a $13, $130, $260, $390, $520, $650, $780, $910, $1,040, $1,170, or $1,300 donation! It will make all the difference in the world as we go forward into 2014! ($13 is pennies above our present Living Wage in Tompkins County)
This year alone, we have been able to:
**certify the City of Ithaca as being our 93rd Certified Living Wage Employer, along with nine other employers;
**worked with the national organization, Interfaith Worker Justice, to begin taking our Living Wage Employer Program to a national level;
**worked to get an opening salvo of $100,000 commitment from Tompkins County for a Living Wage Contingency Fund for County-contracted workers;
**through our Worker's Rights Hotline, which is handling contacts with close to 400 people a year, were able to set the table for successful union organizing drives, at Tompkins Community Action and New Roots Charter School;
**trained over 120 local immigrant and vulnerable workers in their Occupational Health and Safety rights;
**began to work on pressuring local governments require economic development incentives require: 1) a Living Wage be paid to workers; 2) have a diversity hiring plan in place; 3) hire local labor in the construction process.
The Tompkins County Workers' Center (TCWC) is very pleased to welcome the City of Ithaca aboard as our 93rd Certified Living Wage Employer! With over 515 workers, the City is now the TCWC's second largest Living Wage Employer (second only to Tompkins County). The City is also now the third governmental Living Wage Employer; following Tompkins County and the Town of Ithaca, which have both been long-time Living Wage Employers.
Having first met with Mayor Svante Myrick on this important issue of Living Wage Certification close to two years ago, and having lobbied City Council to approve the money needed in its budget last year, the TCWC very much applauds Myrick and the Council's commitment to take care of business in what they can most directly be responsible for as an Employer. We also applaud the City's Human Resources Director, Schelley Michell-Nunn, for being tireless in her efforts to smooth the way to this Certification.
Read more
Why should you stand with fast food workers? Because fast food's low wages are a cost to all of us! Check out our Tompkins County Workers' Center 'action' in collaboration with the incredible Cornell Organization for Labor Action, at McDonald's on Triphammer Road last night in Ithaca! We're demanding a Living Wage for all fast food workers, as well as for *all* workers!
(Ithaca) The Tompkins County Workers' Center is pleased to announce that we now have certified 92 employers as being Living Wage Employers, having just added the following:
· Crown Construction, Inc., 176 Cortland Road, Dryden
· Finger Lakes Naturals, 67 Hornbrook Road, Ithaca
· Friendship Donations Network, P.O. Box 4854, Ithaca
· Ithaca Cayuga Optical Services, 134 The Commons, Ithaca
· Ithaca Teachers Association, 1375 N. Cayuga Street, Ithaca
· Julia E. Dean Pottery, 508 S. Albany Street, Ithaca
· Nutritional Wellness Center, 520 W. Green Street, Ithaca
· Segal and Sorenson Builders, 218 Hudson Street, Ithaca
· Silk Oak/Ithacamade, 425 N. Aurora Street, Ithaca
The nine new Living Wage-Certified Employers employ a total of 44 workers; this brings the total of workers, countywide and regionally, who are working for Living Wage Employers up to over 2,504 people.
The Workers' Center initiated the Living Wage Employer Certification Program in 2006 to publicly recognize and reward those employers who pay a living wage. Any employer in the private, public, and non-profit sectors is eligible to apply. With your help, we can provide incentives for other employers in our community! Please go to http://www.tcworkerscenter.org/community/certified-employers/ to find out which employers are Living Wage-Certified, as well as to download criteria and an application form.
The Tompkins County Workers' Center is gathering folks to rally outside of Wal-Mart on Black Friday, which falls on November 29th. We will be meeting on the sidewalk on Route 13 (in front of Pier One), entrance into one of the Wal-Mart entry points) in Ithaca, from 9 to 11 a.m. that morning, to show our support for the employees of Wal-Mart and against corporate greed.
Recently the National Labor Relations Board (NLRB) found that Wal-Mart has violated labor law, due to their retaliatory actions against staff who have organized to improve their workplace. There has been a growing movement of low wage workers, not only from Wal-Mart but also many fast food chains, for improved conditions at work and a Living Wage. We want to make sure that we show our support by gathering on the busiest shopping day of the year in an effort to bring public attention to these workers plight.
Read more
https://www.aflcio.org/Blog/Organizing-Bargaining/How-Can-Worker-Centers-Work-with-Traditional-Unions
How can worker centers work effectively alongside organized labor? This is a question that the Tompkins County Workers' Center (TCWC), based in Ithaca, N.Y., has been answering in practice for more than 10 years.
Established in 2003, TCWC expanded on its pre-existing living wage advocacy and organizing by adding a workers' rights component to its work. This program was very much modeled on the Cortland County (N.Y.) Workers' Rights Board that local unions had established in a nearby community in 1997. Since then, TCWC has worked closely with labor.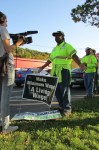 Organizing
In the past few years, TCWC has been critical in two successful union organizing drives. Both drives started after workers came to TCWC with workplace grievances and we connected them with organized labor. In one case, TCWC connected 35 charter school teachers and other employees with New York State United Teachers (NYSUT), an affiliate of AFT, and with NYSUT's help achieved voluntary recognition from management. In the other case, workers for a local nonprofit, Tompkins Community Action, had repeatedly over a few years contacted the Workers' Center with a range of grievances. Finally, TCWC developed, over several months, a strong core of workers interested in unionization and then worked with Painters and Allied Trades (IUPAT) District Council 4 to build and eventually win an organizing campaign and then help the 75 workers win their first contract.
Read more
« Later posts
—
Earlier posts »