Maya Malcolm, Community Organizer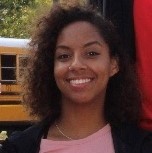 Maya Malcolm is a third year sociology major at Ithaca College with a minor in history.  Maya was accepted to Ithaca College as a MLK Scholar celebrating academic excellence and community service among young people of color. Planning to become a high school teacher and community advocate when she graduates, Maya has close ties to the Ithaca community. In 2019 she worked in Washington D.C as a grassroots organizer and fundraiser for Grassroots Campaigns on the behalf of the ACLU. After working towards funding for Planned Parenthood and fighting the treatment of Immigrants on the southern border, she wanted to bring her attention closer to home and started working at TCWC.
 As an Ithaca native, Maya has deep ties to her community and a firsthand perspective on what it's like to grow up in Tompkins County. Before attending Ithaca college, Maya went to high school at Lehman Alternative Community school and was heavily involved in community organizing within her school such as leading a schoolwide walk out and facilitating racial sensitivity training for the staff. Her duties with TCWC include answering the Workers Rights Hotline providing support and tools to workers and ensuring that they know their rights. She is also involved in workers campaigns and concerted efforts. 
In the future, Maya hopes to teach high school social studies in an effort to educate youth about the social implications of privilege and accountability as well as provide a safe community and education for all students. Beyond teaching, Maya hopes to continue working in advocacy and grassroots organization and provide love and joy to her community in any way she can. She looks forward to a progressive and collaborative future full of culture and community. Maya has big dreams for Tompkins County and she can't wait to hear yours!