City of Ithaca's living wage increase changes workers' lives
China Wade is a single mother of four children. She works at the Greater Ithaca Activities Center (GIAC). GIAC is a department of the City of Ithaca, and in the fall of 2013, the City of Ithaca became a living wage employer, making the city the 93rd entity to receive the designation. The City has 515 employees, so it became the second largest certified living wage employer in the county after Tompkins County itself. China's wage went from $8.50/hr to $12.62/hr.

Ithaca Mayor Svante Myrick Speaks on MSNBC About the City's Decision to Be a Living Wage Employer
Victory Locally and Nationally for Hair Stylists
In January of 2010, TCWC member Jami Breedlove contacted our office with a story of corporate abuse that was very personal for her. For the previous several years, Jami and her family had gotten their hair cut at Cost Cutters in Ithaca. Cost Cutters is a division of the Regis Corporation, owner of 34 hair salon brands, across the nation. Cost Cutters and the Regis Corporation are the world's largest and most profitable hair salon chain in the world. In mid-January of that year, when Jamie went to get her hair cut, she requested her favorite stylist, Amber Little, who had been working at Cost Cutters for the past three years.
Living Wage Garnered for 120 Food Service Workers
Thanks to the incredibly collaborative work between the Workers' Center and student activists at Ithaca College (Labor Initiative Promoting Solidarity), a living wage was gained for over 120 food service workers in the spring of 2011!
Ithaca College itself was a living wage employer. However, the dining service employees worked for Sodexo, a subcontractor, and they were not paid a living wage. (They were paid a starting wage of $8.19/hr – as opposed to IC employees in other departments who were started at $12.10/hr.)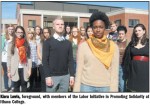 Community activist now employed at the Workers' Center, focusing on Health and Safety, and Immigration Issues
Carlos Gutierrez came to Boulder, Colorado from Chile in 1976 as a political exile. Carlos spent his youth in Chile organizing for social change at a very deep level. In fact, when General Pinochet, with the help of the CIA, took over as Dictator of Chile, Carlos was imprisoned for three years under Pinochet. He moved to Ithaca in 1989. He was already passionate about workers' rights and living wage rights when a friend of his was fired from Collegetown Pizza in 2003.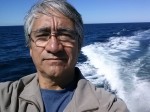 A Worker, James Douglas, Who Needed Help is Now the Chair of the TCWC Board
James Douglas first got involved at the Workers' Center after working at a now defunct BBQ restaurant in Ithaca called Hogsback that was on the Northside. Several employees had been working for over a month without getting paid, and when it got to be too much, they came as a group to the Workers' Center. The Workers' Center helped to try and recover the lost wages.
Solid Waste Workers Catapult Their Wage Issues to a Victory for Sub-contracted County Workers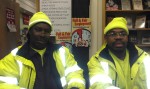 Stanley McPherson has been in Ithaca for four years, trying to find decent employment while building a supportive community for himself. He loves writing and learning about the law and has taken classes in legal research and journalism. Stanley's dream is to someday have law credentials to take cases to any court.