What is a living wage?
Currently, as of July 27, 2022, in Tompkins County the living wage is $16.61/hour for a single person. This is based upon the following from Alternatives Federal Credit Union latest study that was updated to take into account the extreme inflation that took place this past year. Read more about the latest study.
Rent………………………………………………………………………….$1127.00/month
Transportation………………………………………………………..$ 272.11/month
Food…………………………………………………………………………$ 256.00/month
Health care – Insurance………………………………………..$ 120.07/month
Health care – Out of Pocket…………………………………$   99.58/month
Savings…………………………………………………………………….$  76.42/month
Recreation……………………………………………………………… $128.98/month
Communication…………………………………………………….. $ 91.00/month
Miscellaneous………………………………………………………….$170.31/month
Taxes………………………………………………………………………….$ 536.67/month
TOTAL…………………………………………………………………………………..$2,878.07/month
$34,538.84/year or $16.61/hour (based on 2,080/hours a year)
IMPORTANT NOTE TO PRESENTLY-CERTIFIED LIVING WAGE EMPLOYERS: We allow one year to catch up with the new Living Wage figures, that is, you must update your wages by 7/26/23.
Are you a Certified Living Wage Employer?
Tompkins County, New York, is the most expensive place to live in Upstate New York, and by some measures one of the most expensive places to live in the United States; the NY Federal Reserve also identifies our area as having higher income inequality than the rest of Upstate and most of the nation. Even New York's minimum wage higher than the federal minimum is not enough to live on in Tompkins County. Employers that pay a living wage improve the lives of workers directly and our community's economy by empowering more people to be able to participate in it.
By providing every employee a living wage, you show your integrity and leadership in the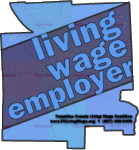 community and affirm that workers deserve to be able to live on what they earn. You strengthen relationships between staff members and management. You highlight your workplace's role in creating a healthier community and raise employee morale and productivity.
When you invest in staff rewards, both tangible and intangible, their satisfaction comes out in the level of service they provide at work. Workers who earn a living wage are also much more able to patronize local businesses, donate to non-profits, and participate in civic life than those who can't afford to get by.
With living wages, our community prospers and that benefits everyone! (Click here to view the 2017 Certified Living Wage Workforce Study from Alternatives Federal Credit Union in collaboration with the Workers' Center.)
(Click here to learn more about what a living wage means to people.)
(Click here to see our Living Wage Certification Handbook, developed by the Tompkins County Workers' Center, along with the national Interfaith Worker Justice organization and Just Economics based in Asheville, North Carolina).
The Tompkins County Workers' Center, a not-for-profit organization, works with all segments of the community to reach the goal of providing a living wage for every working person in our county.
We initiated the Living Wage Employer Certification Program to publicly recognize those who pay a living wage so that we can jointly inspire others to adopt our shared values of fair pay and workers' dignity.  Any employer in the private, public and non-profit sectors is eligible to apply. With your help, we can provide incentives for other employers in our community.
When you become a Certified Living Wage Employer, we:
provide you with a Living Wage Certified emblem for display at your place of business
share feature articles about Certified Living Wage Employers and your perspectives on fair work practices on our 2,000+ members via our mailing list
list your business or non-profit in a special section of our web site
use other avenues such as periodic press conferences and the annual Labor Day picnic to let the public know which employers have received our fair wage certification
Get Certified!
Download the Living Wage Employer Certification Criteria and a 2022 Living Wage Certification application. If your business or non-profit satisfies the criteria, please fill out the form and send it back to us. If you do not currently satisfy the criteria but feel you do provide fair wages and livable jobs or would like to move in that direction, we would still encourage you to send in the form or call or e-mail us so we can talk more.
These documents are in MS Word Format.