News
Press Conference: Thursday 12 noon @ Ithaca College, Public Invited!

Please join the Tompkins County Workers' Center and a host of other organizations on Sunday, December 11th, 2016 from 2:00pm – 5:00pm at The Space @ GreenStar (700 W. Buffalo Street, Ithaca, NY) for a matchup event to
connect community members and organizations (nonprofits and agencies). Many of us are seeing the writing on the wall: funding cuts for organizations that help provide basic needs and civil rights, which equalize social and economic wealth in our communities. If you have felt the pull to get involved and ensure a vibrant, resilient, and inclusive community, but aren't sure where to start, let this be your first step.
On Sunday, December 11th the Space will be filled with local organizations ready to share their missions, goals, and needs. Each organization will have a mailing list signup, a volunteer list signup where appropriate, and a donation box. This is truly a matchmaking event,
a quick and fun way to see what is already in place in our community and to support existing efforts to help marginalized populations and the environment. What does each organization need to continue to foster equity in basic needs and civil rights in our community? Do they need volunteers, board members, funding, networking support?
Larry Alcoff, Veteran Union Organizer, SEIU, NYC
~~~~~~~~~~~
If you are not able to make the above event and/or want to continue the conversation the next evening, please consider checking (the following evening of Wednesday, November 30th)
Friday, November 18th is National Wage Theft Day of Action as declared by one of our national partners, Interfaith Worker Justice. The Tompkins County Workers' Center began its Workers Rights Hotline in the spring of 2003. A full 20% of the people that we've encountered through the Hotline have come to us as a result of Wage Theft happening to them in their workplace. The TCWC has won wage theft judgments of more than $1,300,000 for 350+ workers.
Wage Theft includes:
violations of minimum wage laws;
non-payment of time-and-a-half overtime pay;
workers being forced to work off the clock;
workers not receiving their final paychecks;
workers having their tips stolen by management;
payroll fraud through worker misclassification as independent contractors.
Wage theft is an insidious national crime. According to the Economic Policy Institute, workers in the United States have an estimated $50 billion in wages stolen from them each year. That's more than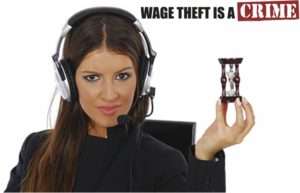 three times the $14 billion lost in burglaries, larcenies, stolen cars, and robberies.
Stopping wage theft can only happen if people report it!
If you are ever the victim of Wage Theft, know of SOMEONE ELSE who might be the victim of Wage Theft, or suspect that a particular industry of workers at a specific worksite are the victims of Wage Theft (If You See Something, Say Something), please consider reaching out to us at our Hotline, 607-269-0409. You can also send an email to TCWRH@tcworkerscenter.org
Directed by ILR student Kay Wilson, and co-hosted by the Tompkins County Workers' Center, the show features a cast of Cornell Students and will conclude with a panel featuring labor playwright Gene Bruskin, and Pete Meyers of the Tompkins County Workers' Center.
(Ithaca) The Cayuga Medical Center (CMC) has engaged in numerous illegal attempts to thwart its employees from coming together as workers and engaging in efforts to democratically represent their interests.
This conclusion was just confirmed by a Federal Administrative Law Judge whose 83-page decision, following hearings held in May in Ithaca, who ruled against CMC on several charges brought against the hospital by the National Labor Relations Board.
The Judge confirmed that CMC engaged in "an assortment of unlawful threats, directives, and prohibitions on union activities" including unlawful disciplinary warnings, suspensions, demotions and adverse performance evaluations.
Says CMC Registered Nurse, Anne Marshall:
"This is about more than just a campaign or contract. This is about a nurses right to speak up freely and without worry of retaliation from an employer when they have issues regarding patient safety. This is about being held to an unlawful code of conduct that prevents nurses from speaking freely about patient safety. This is about wasteful spending of valuable tax payers money and wasting community resources to fight the nurses trying to protect this community. This is not just a win for the nurses, but a win for the entire community we serve."

Adds Marshall: "I would request that the Hospital administration agree to set of Free and Fair Election Practices with the nurses, and refrain from incurring anymore expense in fighting the nurses with regards to their federally protected rights."
The Tompkins County Workers' Center calls on Cayuga Medical Center to enter immediately into a formal agreement with organizing nurses to uphold the following Free and Fair Election Practices:
Within the past year, both Part-Time and Full-Time Contingent Faculty at Ithaca College (IC) unionized with SEIU200 United as their union. ('Contingent faculty' are non-tenure track college teachers. At IC, they earn poverty wages, receive no health benefits, and must re-apply for their job every year.) Negotiations have begun in recent months and both PTers and FTers have been very disappointed with initial proposals from the IC Administration.
The Ithaca College Contingent Faculty Union is requesting a large community presence of support at a Rally at Ithaca College. The Rally will be this coming Wednesday, October 19th, at 6 p.m. at Free Speech Rock on the IC Campus, which is on the IC Quad near Campus Center. Please join the Tompkins County Workers' Center and many local unions who will be there in solidarity!
If you're able to make the Rally, please respond to this email, or sign-in to the Facebook event. Also watch the excellent 7 minute video created by students from IC Students for Labor Action for some of the reasons Contingent Faculty have unionized in the first place.
Says Full-Time IC Contingent Faculty Member, Megan Graham:
The 19th is especially important because the Ithaca College Board of Trustees will be in town, and is going to be enjoying a fancy cocktail hour and dinner in the Campus Center at that time. We want to make it clear to them how important this issue is on campus and how much support we have. The more people we have at this rally, the stronger that message will be."
The Tompkins County Workers' Center held its Celebration of all eighteen (18) entries that people submitted who entered our first-ever Living Wage Visioning Contest on Friday, October 7th. Contestants who live and/or work in Tompkins County, NY,  were asked to produce an original creative work that gave artistic voice to their vision of how their life and the life of their family would change if they were paid a Living Wage. (To see an excellent video and story as created by Kelsey O'Connor of the Ithaca Journal of the Contest and its winners, go here.)
1st Prize Winner ($1,250): Leslie Prunty: "My World Is Very Small"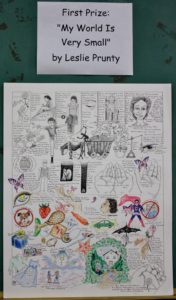 2nd Prize Winner ($750): April Krueger and Iain Michael: "Princess Eloise and the Magical Living Wage"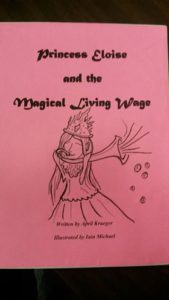 3rd Prize Winner (2 Tied, $250 each): Stephanie Harris: "Living Wage and Reclaiming My Humanity"
3rd Prize Winner (2 Tied, $250 each): Tal Mintz: "Pride"
Click on Read More to see all the other Entries!
(ITHACA) Planned Parenthood of the Southern Finger Lakes has a history of providing accessible quality health care, honest education, and fearless advocacy to communities of Tompkins, Chemung, Steuben and Schuyler counties since 1968. The Tompkins County Workers' Center is pleased to announce that this important community institution has earned certification as a Living Wage Employer.
Karen Fritz, PPSFL's Human Resources Manager, explains why the organization which employs 60 people decided that it was important to pay a Living Wage and seek certification:
"We are deeply committed to equitable pay and providing a Living Wage to all of our staff across our four county service area. Planned Parenthood's mission is based on providing equal access and removing barriers to care while making sure everyone in our community can get the excellent, high quality health services they deserve. By providing a Living Wage we believe we are adding to our mission and proudly standing side by side with other community employers to help lift people out of poverty, help low-income families make ends meets, and remove barriers for individuals and families to live full and healthy lives."
Over 500 people attended the Tompkins County Workers' Center and Midstate Central Labor Council's 33rd Annual Labor Day Picnic @ Ithaca's Stewart Park on Monday, September 5th. The Picnic organizers focused on the theme: Labor Rights are Civil Rights highlighting the 'Black Lives Matter' movement locally. The Guest Speaker was Professor Russell Rickford of Cornell University,and also a leader in the Black Lives Matter Ithaca movement. Incredible music was provided by Colleen Kattau and Mike Brant (Gringa Grooves from the Heart), as well as Ithaca-based rap artist, Sammus also a leader in the Black Lives Matter Ithaca movement.
Earlier posts »