News
WHAT: Ithaca City Council is considering throwing its support behind our movement to make the Living Wage a minimum wage in Tompkins County. They will decide this at the next Council meeting. Come help us make the Minimum Wage a Living Wage!
WHEN: 5:30-6:00 pm, Wednesday, December 2, RALLY next to City Hall, 108 E. Green Street
6-6:45 pm, ATTEND beginning of Council meeting and make a short statement (please let us know if you would consider making statement)
WHERE: Meeting is in Common Council Chambers, 3rd floor, City Hall
WHY: In Tompkins County, far too many working people earn less than a Living Wage of $14.34/hour. Sometimes far less. This includes cashiers where the median wage is about $9.00, retail sales – $10.50, child care – less than $11, housekeepers – less than $10.50, food service – less than $9, home health aides – less than $11, and others. Of course since these are figures for the median wage, half are paid below it.
With wage so low it is not surprising that 14.1 percent of all families in Ithaca live in poverty (2008-12 data). For families with children under the age of 18, that figure rises to 21.4%, and for families with all children under the age of five, the figure is 31.2%. The situation is much worse for single parent families with a female head of household, 54.5% of these families with children under the age of 18 were living in poverty.
The bottom line is that in a community with so much prosperity we must no longer accept wages that leave some unable to support themselves or their families. We all lose when this happens. We all win when everyone prospers. The time to make the minimum wage a Living Wage in Tompkins County is now.
Emily Russell, Owner of The Frame Shop in Ithaca on becoming a Certified Living Wage Employer
For business: "Being a Certified Living Wage Employer has meant lower turnover, increased business, a large applicant pool when we have had to hire, good press, and lots of community support.
For the community: "We're able to support the community and enable employees to give back as well."
About six months ago, a number of Registered Nurses (RNs) from Cayuga Medical Center (CMC), came to visit with the Tompkins County Workers' Center about their desire to form a union of RNs at the main hospital in Tompkins County. After going through a number of options, including the possibility of forming an independent union, the RNs decided to work with the Service Employees International Union 1199, the largest health care workers union in the country. The following is an account by the unionizing RN's at CMC:
The Registered Nurses at Cayuga Medical Center (CMC) are organizing to form a union at CMC. This is a grassroots campaign which was started and is being led by nurses. We currently have representation from every inpatient and outpatient unit in the entire organization. Why do nurses want to unionize at Cayuga Medical Center? Multiple generations of nurses have shared the same concerns about persistent patterns: under staffing, threats to patient safety, low wages, capricious schedules, arbitrary management decisions, and no meaningful voice in making key decisions. (See more details here.)
Please show your support for the nurses in your community as we work to improve the safety and quality of care we deliver to you. We encourage you to write Letters to the Editor and Op-Ed articles to local publications, and to join the hundreds of community members who have signed our petition (click on Take Action below or here to sign the petition), asking that the Cayuga Medical Center engage in a moral and ethical code of conduct as we approach and carry out our election. Please contact us to find out how else you can support our campaign.
On Tuesday, November 10th, from 4:30 to 6 p.m., at Bank Alley (corner of Seneca and Tioga Sts., and across the street from Starbucks) in Ithaca, NY, we will stand as and with all the underpaid Tompkins County residents who work in service and retail jobs across the board to demand a Living Wage for all. If you can attend the event, please go to our Facebook page indicating so.

The Tompkins County Workers' Center is spearheading a campaign locally that plugs into the national Fight for $15 movement with our own creative version of a Countywide Minimum Wage that is a Living Wage (presently $14.34/hour) for every single worker in the County. With a solid strategic plan to make this happen, working its way through the County Legislature and then State government, we need YOUR HELP to make this a reality!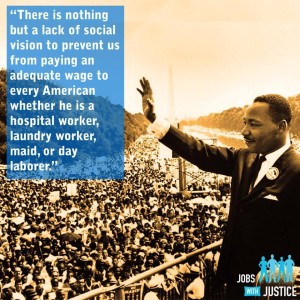 Brett Bossard of Cinemapolis, on becoming a Certified Living Wage Employer
For our business: "We looked at retention, keeping a knowledgeable and enthusiastic workforce. We have a high level of expectations for our staff. They work with the public, and need to be informed and engaged in dealing with our clientele."
For our community: "It's an investment in keeping this a vibrant community. We're making sure that people who work here can afford to live here. And our staff has shown it appreciates that."
(Ithaca) The Tompkins County Workers' Center is pleased to announce that we now have certified 101 employers as being Living Wage Employers, having just recently added the latest three such employers:
The Namaste Montessori School and Strawbridge and Jahn Builders employ a total of 19 workers; this brings the total of workers, countywide and regionally, who are working for Living Wage Employers up to over 3,068 people.
The Workers' Center initiated the Living Wage Employer Certification Program in 2006 to publicly recognize and reward those employers who pay a living wage. Any employer in the private, public, and non-profit sectors is eligible to apply. With your help, we can provide incentives for other employers in our community! Please go to http://www.tcworkerscenter.org/community/certified-employers/ to find out which employers are Living Wage-Certified, as well as to download criteria and an application form.
El Centro de Trabajadores del Condado de Tompkins y el Consejo de Seguridad y Salud Ocupacional les invita a ustedes y amigos/as a este evento sobre Seguridad y Salud en el Trabajo. Para mayor información visite nuestro Blog.
The Tompkins County Workers' Center and the Council of Occupational Health and Safety invites  you and your friends to this event on safety and health at work. For more information visit our blog.
(ITHACA) In a near unanimous vote more than 70 members of the Tompkins County Democratic Committee present at the quarterly Committee meeting on Monday night called on the Tompkins County Legislature to pass a local law seeking to establish the Living Wage ($14.34) as the statutory minimum wage in the County.  The Resolution called for a 4-year phase-in of the increase from the current minimum wage of $8.75.
In speaking for the Resolution, Ithaca Mayor Svante Myrick said: "It is time for a $15 minimum wage. If you work full-time you SHOULD NOT be living in poverty."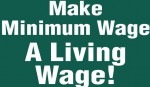 The Resolution was introduced by Town of Ithaca Supervisor Herb Engman who was recently successful in encouraging the Town of Ithaca Board to unanimously approve of a similarly worded Resolution. "This is an important step forward," said TC Workers' Center Coordinator Pete Meyers, "too many workers in the County struggle daily to make ends meet on wages that are far less than a Living Wage in a County that is in many other ways thriving."
Click on the image below to sign petition!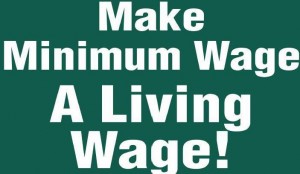 Earlier posts »