On September 17th, at the Tompkins County Legislature, and September 27th, at ReCommunity Recycling, over 175 people rallied to show support for our campaign to ensure that all Tompkins County-contracted workers are paid a Living Wage.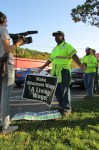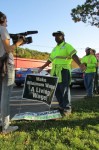 ReCommunity Recycling Workers, Milton Webb and Stanley McPherson, join with over 85 others at a Rally in front of ReCommunity on Friday, September 27th.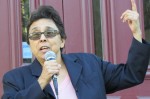 County Legislator, Kathy Luz Herrera, speaking at Rally in front of County Legislator on a need for a Living Wage for all County-contracted workers.
At the September 17th rally, County Legislator, Kathy Luz Herrera had the following to say: "This is an investment in community. Paying contractors a living wage is something we should do as a matter of course. That we have to fight for it shows how broken our system is. I think the legislature is going to come through and understand that to build community here, to build the economy here, for people, not for corporations, we need to pay a living wage."

Herrera said that, although she views the absence of such a standard living wage as a broader problem in America, she believes there is hope for Ithaca to pursue and institute a universal living wage.
"I think we can do this in Tompkins County," Herrera said at the rally. "There are a lot of people [here], there are progressives [and] there are people that understand the economy. The economics of it are clear: our system is broken. It's completely broken, and they understand that, and they're saying, we need to start paying a living wage to all our workers. If you have a job, and you're willing to work hard, you should be able to pay for your basic living necessities."
What Else You Can Do!
• Call or write your County Legislator (if you don't know who your County Legislator is, contact our office at 607-269-0409, or reply to this email, and we will find that information out for you), and tell them you want a Living Wage for all County-contracted workers! (redistricting is happening and we are targeting the new districts that County Legislators will be representing beginning January 1, 2014): Here is their contact info:
o District 1: Pam Mackesey. 273-6203. pmackesey@twcny.rr.com;
o District 2: Leslyn McBean-Clairborne 277-5104 lmcbean@tompkins-co.org;
o District 3: Carol Chock. 273-9007. carolchock@gmail.com;
o District 4: Nathan Shinagawa. 280-7557. nshinagawa@gmail.com;
o District 5: Kathy Luz Herrera. 273-8169. kathyluzherrera@gmail.com;
o District 6: Pat Pryor. 319-0507. ppryor@tompkins-co.org;
o District 7: Frank Proto. 277-4875. fproto@tompkins-co.org;
o District 8: Dave McKenna. 564-7243. dmckenna@tompkins-co.org;
o District 9: Brian Robison. 351-3601. brobison@twcny.rr.com;
o District 10: Dooley Kiefer. 257-7453. dsk11@cornell.edu;
o District 11: Peter Stein. 266-7579. pcs1@cornell.edu;
o District 12: Will Burbank. 272-7555. wburbank@tompkins-co.org;
o District 13: Martha Robertson. 274-5434. mrobertson@tompkins-co.org;
o District 14: Mike Lane. 844-8440. mlane@tompkins-co.org;
o District 15: Jim Dennis. 387-4058. jpd821@yahoo.com
• Sign our petition and ask your co-workers, family and friends to also sign for a Living Wage for All County-contracted workers online, at: afl.salsalabs.com/o/4023/c/200/p/dia/action3/common/public/?action_KEY=6448
What This Is About/Talking Points:
• County tax dollars are used to hire contractors to perform many services but too often the employees of the contractors are paid poverty wages. The County should require that these profit making contractors pay a living wage and should assist the non-profit human service contractors so that they too could pay a living wage;
• In the last few months, over 1,000 Tompkins County residents have signed petitions indicating their support for the living wage requirement;
• Courageous workers like Stanley McPherson and Milton Webb at ReCommunity Recycling have put the jobs on the line in demanding economic justice. We must fight alongside them;
• The County must appropriate whatever money is needed to implement this law. The resulting burden on County taxpayers can be significantly ameliorated by phasing the cost of this living wage law over a period of time, say 3 years;
• A Year 1 appropriation of $250,000, for example, would be about one tenth of 1% (.001) of the County's budget. As a percentage of its budget this is about the same as the City of Ithaca recently appropriated to fund its living wage employer certification petition;
• Over 140 communities around the nation have living wage laws – it is high time that Tompkins County should have one too. People who work for the County, whether directly employed by the County or indirectly employed through County contracts, should receive a living wage;
• Poverty and inequality are important issues affecting our community. The pernicious effects of poverty on our community are visible every day – in our schools, at the food bank, at the Department of Social Services, in doctors' offices, and in every retail business in town. The taxes we pay are higher because they are needed to assist working families who are forced to work for sub-par wages. And retail businesses in the community suffer because residents do not have enough disposable income;
• As Lynne Jackier, former Executive Director of Ithaca's Drop-In Children's Center, has stated in an OpEd submitted to the Ithaca Journal, "There are certainly obstacles to be overcome in implementing any new plan. But … if a living wage is non-negotiable then a way to achieve it will be developed."