https://www.aflcio.org/Blog/Organizing-Bargaining/How-Can-Worker-Centers-Work-with-Traditional-Unions
How can worker centers work effectively alongside organized labor? This is a question that the Tompkins County Workers' Center (TCWC), based in Ithaca, N.Y., has been answering in practice for more than 10 years.
Established in 2003, TCWC expanded on its pre-existing living wage advocacy and organizing by adding a workers' rights component to its work. This program was very much modeled on the Cortland County (N.Y.) Workers' Rights Board that local unions had established in a nearby community in 1997. Since then, TCWC has worked closely with labor.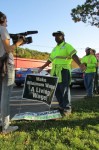 Organizing
In the past few years, TCWC has been critical in two successful union organizing drives. Both drives started after workers came to TCWC with workplace grievances and we connected them with organized labor. In one case, TCWC connected 35 charter school teachers and other employees with New York State United Teachers (NYSUT), an affiliate of AFT, and with NYSUT's help achieved voluntary recognition from management. In the other case, workers for a local nonprofit, Tompkins Community Action, had repeatedly over a few years contacted the Workers' Center with a range of grievances. Finally, TCWC developed, over several months, a strong core of workers interested in unionization and then worked with Painters and Allied Trades (IUPAT) District Council 4 to build and eventually win an organizing campaign and then help the 75 workers win their first contract.

TCWC also has been taking its message about how worker centers' day-to-day connections with unorganized workers can lead to organizing campaigns to a wider audience. In the past two years, it has taken a significant lead in developing an Upstate New York Workers' Center Alliance, which includes organizations in Buffalo, Kingston, Rochester, Syracuse, Tompkins County and other fledgling worker center efforts across upstate New York.
Solidarity
For more than 30 years, local unions have organized an annual Labor Day picnic in Ithaca, typically drawing hundreds of workers, families and politicians. The media comes, too, always interested in finding out who won the annual Friend of Labor Award and Goat of Labor Dishonor each year (along with the Joe Hill and Mother Jones awards). Since 2006, TCWC has become a co-organizer of the Labor Day picnic, working alongside the labor council.
Issue Campaigns
UAW Local 2300 represents food service and other workers at Cornell University in Ithaca who, due to a quirk in state law, are denied unemployment benefits during seasonal layoffs (like all education employees in the state). When that union, along with other unions and organizations in the state, mounted a drive to change the law in Albany, it immediately contacted TCWC. The Workers' Center helped pass petitions and educate the community to build a campaign for legislative change. This did not succeed but cemented a longstanding relationship between UAW and TCWC.
Unorganized Labor
While TCWC has worked closely with unions wherever possible, the bulk of its work over the years has been in support of workers who don't have a union on the job. Every year, for example, its Workers Rights Hotline is contacted by 400 or so workers, almost all of whom have no union representation. In addition, there have been numerous campaigns targeting wage theft, unfair labor practices and low-wage employers like Walmart. Over the years, for example, TCWC has helped win more than $1.25 million for workers cheated out of the wages they were legally entitled to, primarily at local restaurants. In addition, we have won two National Labor Relations Board unfair labor practice cases, including one with the Regis Corp., which became a national cause célèbre.
Through intentional solidarity and joint organizing, TCWC and the labor movement in Ithaca have succeeded in making real strides and building power for working people.