Fast food workers are standing up all over the world this Thursday, May 15th, to demand a Living Wage for all fast food workers, the right to organize a union, and against Wage Theft. In Ithaca, our presence will be at the McDonald's at 372 Elmira Road on Route 13 close to Buttermilk Falls from 12 noon to 1 p.m.
Join the Tompkins County Workers' Center and the Labor-Religion Coalition of the Finger Lakes as we stand witness to this growing global movement to hold fast food restaurant owners accountable to the communities they operate in.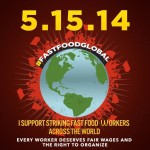 From local Unitiarian-Universalist Minister, Darcey Laine: "Recently McDonald's workers filed seven class-action lawsuites in New York, California and Michigan over Wage Theft violations. One employee in California states that sometimes he was ordered to punch out soon after starting work and to hang around unpaid. [In fact, the New York State Attorney General's office in April 2014 settled for $500,000 with one franchise owner in NYC for exactly the same sort of thing.]
If you are a victim of Wage Theft, or otherwise angry at your low wages, and work in the larger Tompkins County area, please give our Workers Rights Hotline a call at 607-269-0409 or email us at TCWRH@tcworkerscenter.org, or see our Workers Rights Handbook online at https://tcworkerscenter.org/wp-content/uploads/2011/02/may2010wrhb.pdf.