Over 300 people attended the Tompkins County Workers' Center and Midstate Central Labor Council's 31st Annual Labor Day Picnic on Monday, September 1st. The Picnic organizers focused on the theme: Building a Strong Local Economy for Workers, Awards were handed out to the following deserving recipients:
**Mother Jones Award went to: Christine Johnson, a longtime Housekeeper at the Statler Hotel @ Cornell University, as well as a Steward with the United Auto Workers Local 2300 that represents most service workers at Cornell. Johnson was recognized for her superb representation of workers at the Statler, as well as the union in general.
**Joe Hill Award went to: Dave Richardson, a retired union electrician at Cornell University who continues to be active in labor issues. He was a founding member of the Skilled Trades Diversity Council to promote diversity in the trades. The council is a partnership between Cornell and the Tompkins-Cortland Building Trades Council.
Jim McCauley, a local labor law attorney in Ithaca, received the Friend of Labor Award for his superb representation of working people, both organized and unorganized, in labor disputes.
The Goat of Labor was presented to two different business endeavors. The first was to Suit-Kote, a paving company in Cortlandville, NY, that was found guilty by the New York State Department of Labor for $4.3 million in Wage Theft (as related to Suit-Kote's not paying prevailing wages to their workers working on government contracts; not always paying overtime; and not adequately paying benefits as promised.
The second Goat of Labor Award was presented to the McDonald's Corporation for their egregious payment of low wages to workers across the world, as well as incidents of Wage Theft in various parts of the United States.
In late July, 2014, the McDonald's Corporation was considered by the National Labor Relations Board as a Joint Employer with local McDonald's franchisees. The general counsel of the NLRB ruled on Tuesday that McDonald's could be held jointly liable for labor and wage violations by its franchise operators — a decision that, if upheld, would disrupt longtime practices in the fast-food industry and ease the way for unionizing nationwide.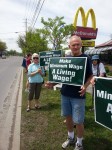 The fast-food workers who filed cases asserted that McDonald's was a joint employer on the grounds that it orders its franchise owners to strictly follow its rules on food, cleanliness and employment practices and that McDonald's often owns the restaurants that franchisees use.