(Ithaca, NY)–Alternatives Federal Credit Union will release the results of its bi-annual Living Wage Study on Friday, June 26, 2015, and YOU are welcome to attend!
A news conference on the Living Wage will be held at 10:00 a.m. on the 2nd floor at Alternatives, 125 N. Fulton Street, Ithaca.
Karl Graham, Director of Community Relations and Development at Alternatives, will announce the updated figures that represent a Living Wage for the Tompkins County area.
Karl will be joined by a panel of speakers including:
• Tristram Coffin, Chief Executive Officer at Alternatives;
• Leslyn McBean-Clairborne, Tompkins County Legislator, District 1, City of Ithaca and Director of the Greater Ithaca Activities Center (GIAC);
• Mandi Meidlinger, Owner of Jillian's Drawers, A Certified Living Wage Employer;

• Pete Meyers, Tompkins County Workers' Center;
• Sullymar Pena Vazquez, A Living Wage employee.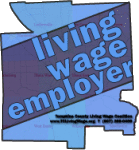 The Tompkins County Workers' Center has a process for businesses to become certified Living Wage employers and encourages the community to support those organizations and businesses. Its webpage lists 99 certified Living Wage employers (up from 86 since 2013).