Seventeen (17)Â  Gimme! Coffee baristas voted today, concluding at 9 p.m., by a vote of 16 to 1 in a National Labor Relations Board (NLRB) election in favor of organizing a union to negotiate a contract in their workplaces. The election was for non-managerial baristas at the W. State/MLK Street location; the N. Cayuga Street location; the Gates Hall location at Cornell U.; and the Trumansburg location. They are now members of Workers United Local 2833.
The next step in the unionizing process is for the Baristas to elect a Bargaining Committee and then establish communications with the Management of Gimme! Coffee to begin contract negotiations. They'll create agreements on how such negotiations will proceed as both sides work through what they would like to accomplish through their new contract.
Samantha Mason, a barista at the Cayuga Street Gimme! Coffee location and a member of the Workers United Organizing Committee says: "Workers power is real. This union is a crucial step in moving forward with improving the lives and workplaces of hospitality workers in Tompkins County. Our next step at Gimme! is negotiating a contract. The struggle continues".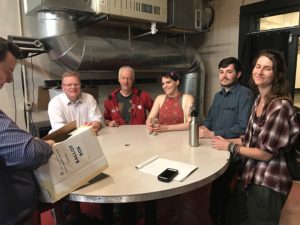 Says Korbin Richards, a barista at the Gates Hall location: "Now is the exciting part; everything is on the table for bargaining, and we're committed to making this process as imaginative as possible. It's the best type of challenge – to push your creativity and create a fair and innovative contract."
Leading into the election, owner and founder of Gimme! Coffee, Kevin Cuddeback, chose to be neutral and said: "We respect employees' right to decide whether to unionize, and we'll continue working with all our employees to make Gimme the best place it can be for our employees, customers, and coffee suppliers."
Pete Meyers, Coordinator of the Tompkins County Workers' Center (TCWC), says: "We at the TCWC are ecstatic that the Baristas at Gimme! Coffee have decided to organize a union; as we are uplifted by the amazing energy of the Baristas. We are very appreciative of Gimme! owner Kevin Cuddeback's position of 'neutrality' towards the unionizing effort in his stores. It is especially inspiring to us at the TCWC how these workers are especially interested in building a union movement in Tompkins County to raise working conditions of hospitality workers throughout our community."
Rob Brown, TCWC Organizer says: "The food service subset of the hospitality industry alone accounts for 1/3 of workers' rights cases that the TCWC handles through our 15-year-old Workers' Rights Hotline. Our partnership with the Gimme! baristas and Workers United is a part of our continual work to educate the public about common exploitative conditions in this industry; seek positive transformation of working conditions with workers; and highlight workers' right to engage in concerted actions and collective bargaining to manifest positive mutually beneficial changes in the workplace. Workers' voices make businesses better."
Gary Bonadonna, Manager of Workers United/Rochester Regional Joint Board, and the union that is organizing with the Gimme! Coffee baristas had this to say: "We are honored to be working with Gimme! Coffee workers. They are a dedicated, creative and inspirational group. Unions to be relevant in today's workforce must assist workers to organize in the growing but low wage service sector economy. Deunionization of our society led by the Walmarts of this world is not a healthy thing. I also want to praise the enlightened management of Gimme! Coffee. Too often employers wage war against their workers who want to organize. Gimme! Coffee management, led by CEO Kevin Cuddeback, brews justice with their great coffee."