New York State's new rules for Paid Family Leave (PFL), which cover all NY employers with one (1) employee or more, will go into effect on January 1, 2018. The Tompkins County Workers' Center is putting out an announcement now, because NY employers that wish to do so are eligible to begin employee withholdings to pre-fund Paid Family Leave insurance beginning July 1, 2017.
Passed in 2016 with much less public hype than the state's three-tiered minimum wage increases, the state's new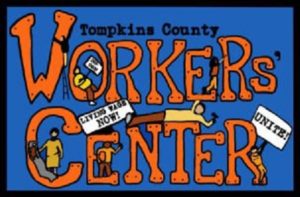 Paid Family Leave fills in the gaps in the national Family Medical Leave Act (FMLA) to create the nation's most comprehensive family leave provisions.
Benefits will begin in January of 2018, and phase in to their full amounts over four years. Employees of NY businesses with one or more employees, who work full-time for 26 weeks or part-time for 175 days will be eligible to take time off from work, with lost income partially made up by PFL insurance. Non-citizens covered by their employers are covered in the regulation. Workers will be able to take PFL in situations including the following:
·         New parents during the first 12 months following the birth or adoption of a child;
·         Employees caring for a sick child, parent, or grandparent;
·         Employees with a spouse, child, domestic partner or parent who has been notified of an order of active military duty.
Employers may not discriminate against employees for taking Paid Family Leave. Employees must be returned to the same or a comparable job when their family leave is over. Employers must guarantee employees continuation of their health insurance while out on PFL.
Starting with a maximum eight (8) weeks paid family leave at 50 percent of regular wages or salary in 2018, New York PFL coverage will expand to twelve (12) weeks paid family leave at 67 percent of regular wages or salary in 2021.
NYS PFL insurance will be available to employers through their New York Disability Benefits insurer, or they can self-insure. Benefits will not start before January 1, 2018, but employers can begin withholdings for coverage in July, 2017 if they choose.
Employers with questions about coverage details should contact their disability carrier or broker.
Anyone can contact the NY PFL helpline at (844) 337-6303 or get more information at https://www.ny.gov/paidfamilyleave.