Over 350 people attended the Tompkins County Workers' Center and Midstate Central Labor Council's 34th Annual Labor Day Picnic @ Ithaca's Stewart Park on Monday, September 4th. The Picnic organizers focused on the theme: Mobilizing for Our Rights and Fighting for a Countywide Living Wage.  Incredible music was provided by the Ithaca Bottom Boys.
Watch Facebook 'Live' Video of Picnic Program and Awards (Video taken by Chris Hannah)

MOTHER JONES AWARDS: Named after legendary labor activist, Mother Jones (1837-1930), who once said: "Pray for the dead and fight like hell for the living. "Forced to support herself, when her husband and children all died, she became involved in the labor movement and helped to found the Industrial Workers of the World (IWW or "Wobblies"), in 1905.]

The two Mother Jones Awards were given to the following organizations:
Gimme! Coffee Baristas, Workers United, Local 2833, for their stellar and impassioned work to create a union at Gimme! Coffee, evidently the first barista union in the country;
Ellen David Friedman, cofounder of the Vermont Workers' Center, moved to Ithaca 18 months ago and heavily involved in TCWC efforts to deepen our Community Union Organizers leadership program, as well as deeply involved in several nascent unionizing efforts locally.
JOE HILL AWARDS: Named after legendary labor activist, Joe Hill (1879-1915). [Hill  was a songwriter, itinerant laborer, and union organizer, Joe Hill became famous around the world after a Utah court convicted Hill of murder. Hill was then executed before the international campaign to exonerate him could play out.]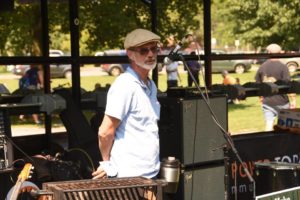 The three Joe Hill Awards were given to the following organizations:
The Fired Three @ Ithaca College (Shoshe Cole; Rachel Gunderson; and David Kornreich) for their work as Full-Time Contingent Professors whose contracts were not renewed after having worked as Full-Time Contingent Professors at Ithaca College for numerous years.
The Friend of Labor Award
The Friend of Labor Award was given to Angela Cornell and the Cornell Labor Law Clinic for their stellar work in supporting both union and non-union workers in struggles for justice, including support proferred to the Fired Three @ Ithaca College professors in their National Labor Relations Board case.
An Honorable Mention for the Friend of Labor Award went to Eric Evans, a member and leader of UAW Local 2300. Among other things, Eric was honored for his fundraising efforts for the Robin Fund, which helps people in the community in financial crisis. Evans said he raised more than $3,000 this year for the fund.
The Goat of Labor Award