(Ithaca) Alternatives Federal Credit Union (AFCU) today announced its new Living Wage calculations for a single individual living in Tompkins County based on 2016 living/rental costs. This amounts to $15.11/hour.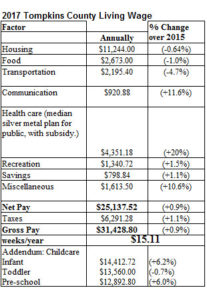 The Tompkins County Workers' Center (TCWC) applauds AFCU's commitment to paying its own workers a Living Wage and providing the research that helps establish the foundation for a more fair economy in Tompkins County.
Facebook Live Video of Press Conference
The new Tompkins County Living Wage, way beyond what many people are actually paid, makes it crystal clear that Tompkins is really two counties. Too many people in Tompkins County do not have

an income that approaches the living wage – many earn as little as half that – and they, their families, and our overall quality of life suffer as a result. The preponderance of poverty-wage jobs in Tompkins County tears at the fabric of our community and increases the tax burden on all families.
That is why it is critical now more than ever that the Living Wage must be the Minimum Wage (see FAQ here). We can't wait for Washington or Albany to do it for us. To meet that challenge, the Workers' Center is in the midst of a campaign to enact a comprehensive living wage law for all Tompkins County workers.
Some will say, "It's too complicated" or "It's too difficult" or "It will never happen." But you know what is really complicated and difficult? It is trying to live and even perhaps being a good parent on $9.70/hour (the present minimum wage in upstate NY).
This year, Alternatives Federal Credit Union, the Tompkins County Workers' Center, and the Alternatives Fund of Ithaca conducted the first-ever study of the Certified Living Wage Employer (CLWE) workforce. Since the CLWE program began in 2006, we have had considerable information about the businesses that choose to pay all employees a Living Wage and get certified, but have had no real data about who makes up the workforce. This study is the beginning of learning about these workers and learning whether our Living Wage work has made a difference. It has.