The Tompkins County Workers' Center (TCWC), the first organization in the United States to pioneer a Certified Living Wage Employer program, is helping to launch a nationwide network of Living Wage Certifiers.
The network, composed of Living Wage Certification programs from around the country that recognize employers who pay a Living Wage, significantly impacts the lives of tens of thousands of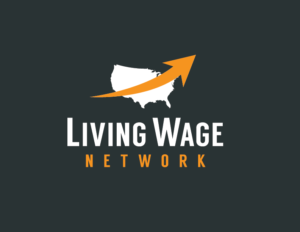 low-wage workers. Currently, seven of the network's members actively certify employers in locations nationwide. A list of active programs and their locations can be found online at www.livingwagenetwork.org, where folks in different communities can also get a toolkit on how to start their own certification and connect with Network members for support.
The TCWC started its program in 2006 in the spirit of the already-recognized Fair Trade movement, which recognizes the need for a Living Wage at the point of production but didn't recognize those workers who were serving the products of such Fair Trade. Building on the work of Alternatives Federal Credit Union, which has objectively studied Living Wages in Tompkins County using the same methodology since 1994, TCWC's Certified Living Wage Employer program helps working people keep up with costs of living and helps high road employers showcase their leadership for the entire community.
Rob Brown, who staffs the TCWCs Living Wage Certification Program, says "Our partners through the Living Wage Network are inspiring organizations, and sharing our local and regional approaches to Living Wage advocacy strengthens all of our communities. Some employers we each certify work hard to bring wages for all employees up to the Living Wage, while others already pay a Living Wage but certify to declare not just their pride as leaders in fair employment but to promote the vision that all workers deserve to make a living. Isn't that what we all should be working for?"
With new partnerships formed through the Living Wage Network, we see an opportunity to expand our reach and impact workers across the nation. The need certainly exists. In no state does a low-wage worker not struggle to provide for their family. In no state in America can a minimum wage worker afford a two bedroom apartment. Nowhere is the minimum wage yet a Living Wage.
The network is composed of organizations and programs that encourage and certify employers who pay a Living Wage. Each certification program has developed its own criteria for determining what constitutes a Living Wage, accounting for the cost of living in each unique community. Separately, our work has significantly impacted the lives of tens of thousands of low-wage workers across the country. Together, we help build the future of fair pay.
The Living Wage Network's mission is to support worker livelihoods by urging employers to pay Living Wages by promoting Living Wages as a matter of conscience within our community. To date, over 2,500 small and medium size businesses across the country have certified their commitment to pay a Living Wage to their employees. By linking organizations across the nation and creating a formalized network, we can expand and support the movement for Living Wages, and lift up employers who believe it is good business to pay Livable Wages to all workers.
About the Living Wage Network
We exist to promote a just economy where workers are paid fairly, employers are successful, and our community thrives as a result. Read more about us here.
About The Tompkins County Workers' Center
TCWC launched its Living Wage Employer Certification program in 2006. After years of work, TCWC has ensured that thousands of workers in Tompkins County are paid a Living Wage. If you own or manage an enterprise in Tompkins County that currently pays all workers a Living Wage, or would like to get there, Get Certified!