On Tuesday, July 24th, participants in the 43rd Annual UALE Northeast Summer School for Women in Unions and Worker Organizations will hold a Rally on The Commons in Ithaca, in coordination with the Tompkins County Workers' Center and Cornell Graduate Students United (CGSU). [Sign up to say you're able to make it on our Facebook event page HERE]
The Rally will take place from 3:30 to 5 p.m. at the Bernie Milton Pavilion on The Commons in Ithaca, and will highlight the community-based movement to raise the minimum wage in Tompkins County to a Living Wage. According to the Alternatives Federal Credit Union biennial Living Wage Study, the local Living Wage is presently $15.11 an hour, if a worker has no health insurance benefits at work. This is enough for a single person with no dependents to afford basic costs of living in Tompkins, and the current New York minimum wage falls woefully short of meeting people's needs in this community.
A disproportionately large number of the professions that pay workers at or near the minimum wage are mainly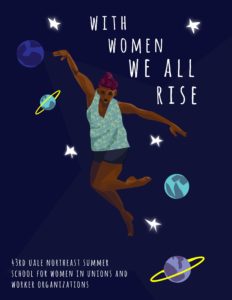 staffed by women, and minimum wages that can't cover costs of living (much less caring for children and family members) represent a systemic economic injustice that enforces unequal pay and unequal opportunity for women in the workforce. The July 24 rally will especially highlight this problem.
The United Association for Labor Education (UALE) Northeast Summer School for Women in Unions and Worker Organizations brings together women of the labor movement to strengthen their knowledge and develop leaders who will grow and transform the labor movement. It is hosted this year at Cornell University from July 21st to July 25th. The Tompkins County Workers' Center is a non-profit workers' rights organization that champions a Living Wage for all, enforcement of people's rights in the workplace, safe and healthy work, and the power of organizing to transform our cultures of work. CGSU was formed by graduate students from across Cornell in March 2014 to be a new advocate for and provide an independent mechanism for collective voice in our relationship with the University.  We are focused on organizing efforts to bring respect and dignity to the graduate students who Cornell relies on to provide essential labor