Alternatives Federal Credit Union has announced the updated 2019 Tompkins County Living Wage, calculated through their biennial Living Wage Study which has reached its 25-year Anniversary this year.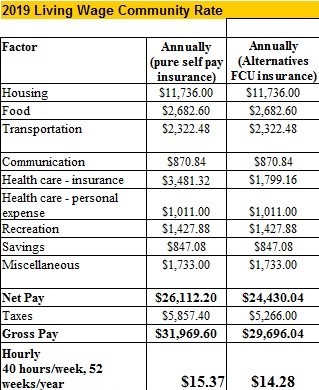 The Living Wage is now $15.37 per hour for a worker who receives no health benefits at work, up from $15.11 in 2017-18.
Alternatives announced the results of this year's study at a press conference and discussion panel on May 3. You can view the video of the live stream of the event here. [Video courtesy of Mike Hanlon]
For workers with employer-sponsored benefits identical to Alternatives', the rate is $14.28; if an employee has insurance 100% covered by an employer, reductions to cost of living can bring the minimum Living Wage rate lower. For documentation of the 2019 Alternatives study and previous studies for comparison, go here.
Costs of living continue to outpace the amount of money workers can earn on the minimum wage, even with New York's minimum wage higher than the federal rate. This is why the Tompkins County Workers' Center, along with a coalition of workers, businesses, and local governments are campaigning for a Living Wage Minimum Wage. One of the panelists at the 2019 Living Wage press event, Dr. Ian Greer, Senior Research Associate at the Cornell University School of Industrial and Labor Relations, presented initial findings of the Living Wage Working Group's research into low wage work in the county, which is proceeding into research of economic effects of such an increase. The fact sheet on this work can be found here.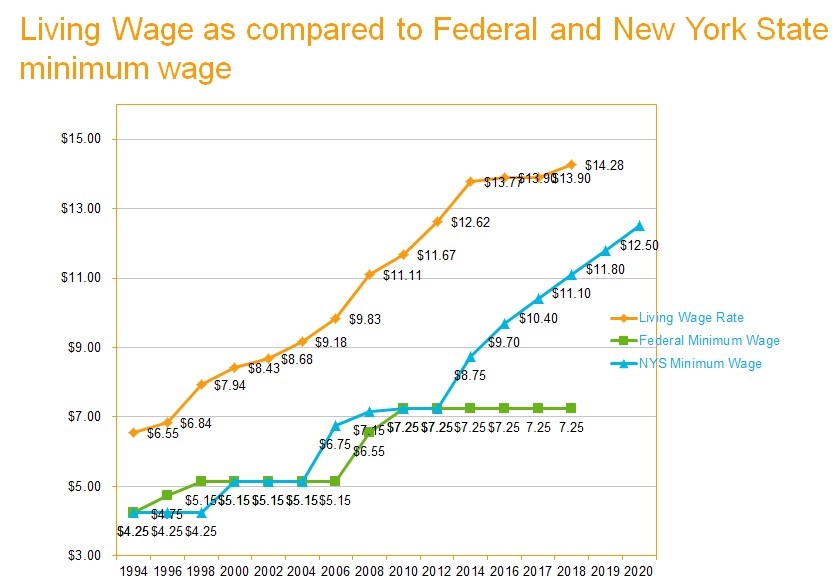 Panelists for this year's announcement whose remarks you can hear in the livestream video are:
** Eric Levine, Chief Executive Officer, Alternatives Federal Credit Union
** Karl Graham, Chief of Community Development, Alternatives Federal Credit Union
** Nazelle Davis, Living Wage employee and Member Experience Associate, Alternatives Federal Credit Union
** Svante L. Myrick, Mayor, City of Ithaca
** Leni Hochman, Former Chief Operations Officer and instrumental in conducting Alternatives' first Living Wage Study in Tompkins County in 1994
** Ashley Cake, Co-owner of The Watershed, Certified Living Wage Employer and Alternatives Federal Credit Union Board, Director
** Ian Greer, Senior Research Associate in the ILR School of Cornell University
** Pete Meyers, Coordinator and one of the founders of the Tompkins County Workers' Center
** Rob Brown, Operations Manager, the Tompkins County Workers' Center and Alternatives Federal Credit Union Board, Director