The 1st edition of the Restaurant Owner's Manual was created by the Tompkins County Workers' Center in collaboration with a multitude of community and governmental organizations. The expanded second edition, updated with changes to labor regulation and understanding of best practices in the years since, is a resource for any business owner or manager in the food service industry in Upstate New York. (There are conditions that apply to New York City / Downstate enterprises that we do not cover here.) It is equally a resource for workers in the sector.

Upstate New York Restaurant Owner's Manual, 2nd Edition: Direct link to PDF

Below we include the Foreward, by Roberta Reardon, New York State Comissioner of Labor, and the Introduction by Ashley Cake, a hospitality industry business owner.

Thanks to our second edition co-editors Liam Audet and Nico Hirschl for their work preparing this resource for you.

FOREWARD

ROBERTA REARDON
Commissioner
W. A. HARRIMAN STATE OFFICE CAMPUS, BUILDING 12, ALBANY, NY 12240U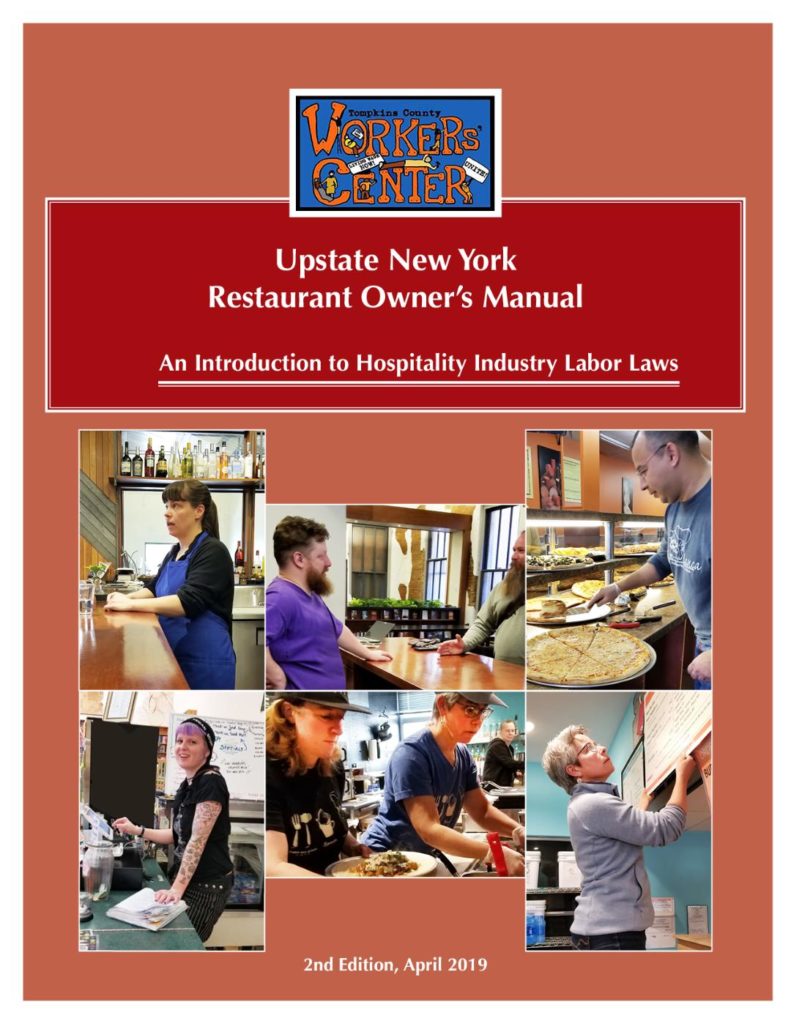 As New Yorkers, we are privileged to live in a state brimming with culture. We celebrate our diversity and differences, and restaurants are an example of how we express our love for our culture and share it with others. Through the experience of dining together, we strengthen our bond as a community. Restaurants add vibrant flavor to the places we live, and are
often the catalyst that encourages visitors and locals alike to explore and patronize our downtowns. The New York State Department of Labor and the Tompkins County Workers' Center deeply value the significant contribution restaurants make to the economic vitality of the region, and consider restaurants esteemed cornerstones of the business community.

For generations, families, friends, neighbors and colleagues have gathered at their favorite local restaurants to share meals. These establishments are home to memories made, milestones celebrated and conversations had. They are keepers of countless smiles, laughs and unforgettable moments. The proprietors and staff are far more to their patrons than simply those serving food and performing a service; for many, they feel like family.

Operating a restaurant comes with tremendous responsibility. As a restaurant owner, it is your duty to protect those who work for you. It is a privilege to employ treasured neighbors and friends, and place your trust in them to act as ambassadors for your business, your passion and your culture. As times evolve, so do workplace standards. It is imperative that
you remain vigilant in knowing the law. The prosperity of your business and workforce depend on your keen understanding of and commitment to compliance. Paying your staff the mandated wage, ensuring they are paid the wages they are owed, and maintaining a safe work environment free from occupational hazards, discrimination, and harassment make the tangible promise that you value them and take pride in your business. By complying with state and federal laws, you set a positive example within your community, and become the gold standard for doing business.

The New York State Department of Labor is your ally. The success of your business is our priority. We commend your investment in your community, and reaffirm our investment in you. This manual is a phenomenal resource, and we extend our gratitude to the Tompkins County Workers' Center for their tireless work toward ensuring a safe and dignified workplace for all.

Sincerely,
Roberta Reardon

[The information in this manual comes from several sources and provides this information as a public service. The Department of Labor makes no guarantees, warranties, or assurances of any kind, express or implied, with respect to such information, including any information on linked sites and including, but not limited to, accuracy of the information or its completeness, timeliness, usefulness, adequacy, continued availability, or ownership. Employers should seek the opinion of counsel to ensure they are meeting all of their responsibilities under state and federal law.]

Upstate New York Restaurant Owners Manual Intro
Ashley D. C. Cake
President and CEO, The Watershed (GDAM Industries, Inc.)

Growing up in Ithaca, from my first job as a cashier at the Hancock St. P&C in 1994 to owning the Watershed today, working in food service and hospitality has not only put me in touch with the growing market of affluent consumers, but also allowed me to develop complex relationships of solidarity with my fellow workers. As the cost of living increases amidst stagnating wages, the service of luxury commodities exacerbates a two tier system with laborers below the line supporting the consumers up top. Bartending at high end establishments, my job is in large part to "make it look easy." Good service means obscuring the supply chain as well as my own and others' labor in making luxury commodities available to our predominantly wealthy clientele, all without their having to think about where it's all coming from and at what cost. I joke sometimes that bartenders and servers wear black because like stage hands we are not to be seen, our interests are not the priority in the show of service. This is the over-arching reality that motivated us at the Watershed to certify ourselves as a living wage employer, guaranteeing our bartenders at least $16 an hour regardless of service volume.

A 2017 economic analysis put together by Tompkins County Area Development reveals that around 8% of Tompkins County's jobs are in accommodation and food service, with average annual earnings of around $21,000 per year, far below the $31,000 annual living wage without health benefits set by the Alternatives Federal Credit Union Living Wage Study released in 2017. Ithaca itself is one of the metro areas with the highest income inequality in the nation. In 2016 Mayor Svante Myrick brought home the salient point that while Ithaca itself is a booming economy that has enjoyed a 37% growth in average wealth, there has only been a 15% increase in median wealth. The rising tide of prosperity is not lifting those boats with holes in them.

The reality is that many hospitality workers are just scraping by in Tompkins County. Many have to choose between unaffordable housing in the City of Ithaca, and shifting unaffordability to their transportation costs and the expense of owning and maintaining a car amidst the congested traffic and scarce parking in the rapidly developing Central Business District. Single parents working in the service industry have to weather all of these challenges while affording childcare at hours when schools and subsidized child care programs are not typically available and single parent families suffer disproportionately from the seasonal, irregular scheduling that is endemic to the service and hospitality industries.

The regulations and guidelines contained in this manual are an important rubric for strengthening the position of hospitality workers, particularly those making near the minimum wage. Given the high cost of doing business in Ithaca, many business owners are inclined to cut and suppress their labor costs before other measures, and workers are left with growing job insecurity and are increasingly vulnerable to wage theft and exploitation. That inequity is not only economically unsustainable but morally unconscionable. In order to address this problem and sustain the economic growth in Tompkins County, business owners must be held accountable for compensating and protecting their workers according to county, state, and federal law, and the interests of labor must be prioritized, advocated for, and ultimately elevated.

This manual, as well as the excellent work done by the Tompkins County Workers Center, is an important step in that direction. As a career service worker and now an employer, the Workers Center has given me ample resources and support to do the best I can for my employees, and I hope that many other businesses in Tompkins County take up these resources and work in solidarity with their employees to foster a more equitable economy and a mutually sustainable future for our shared communities.