Tompkins County has a new Living Wage. It is now $15.32/hour.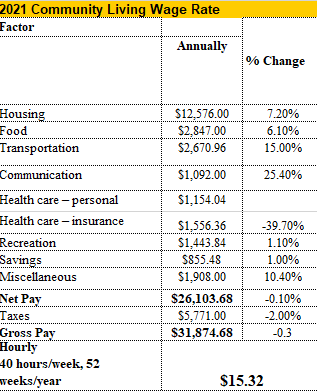 The Living Wage is calculated every two years and represents a minimum standard of living for a single person, including the cost of a 1-BR apartment, health insurance through the NYS Health Marketplace (Silver Plan), and taxes. If your health insurance is provided and 100% paid by your employer, the Living Wage is $14.32/hour. In some cases, where your employer provides health insurance but requires workers to pay a portion of the premium that cost may be more than the cost of the silver plan on the Marketplace. In such a case the Living Wage would be higher than $15.32.
The new Living Wage – $15.32/hour – is less than calculated two years ago mainly due to the increased federal subsidies going toward health insurance on the Marketplace, resulting in a 39.7% decline in the cost of a Silver Plan.
While some employers have committed to paying a Living Wage (see list of certified living wage employers here), most local workers have to depend only on the NYS minimum wage which is $12.50/hour in upstate New York, almost $3/hour LESS than a Living Wage. This is why our County Legislature needs to establish the Living Wage as a County Minimum Wage. If you want to learn about and join our campaign, go here.
The Living Wage is calculated every two years by Alternatives FCU, and it has been doing so since 1994. For documentation of the 2021 Alternatives study and previous studies for comparison, go here.
Get Certified!
Download the Living Wage Employer Certification Criteria and a 2021 Living Wage Certification application. If your business or non-profit satisfies the criteria, please fill out the form and send it back to us. If you do not currently satisfy the criteria but feel you do provide fair wages and livable jobs or would like to move in that direction, we would still encourage you to send in the form or call or e-mail us so we can talk more.
These documents are in MS Word and PDF Format.