Ithaca Voice: Tompkins County Living Wage Increases by 8.36% by Zoe Freer-Hessler/Ithaca Voice
TOMPKINS COUNTY, N.Y.—The living wage in Tompkins County has increased from $15.32 an hour to $16.61 as of July 27, 2022, announced the Tompkins County Workers' Center (TCWC) and Alternatives Federal Credit Union (AFCU), the two organizations that collaborate to update the wages in the county.
Though the living wage rate is typically reevaluated every two years and was updated in July 2021, Pete Meyers, coordinator and one of the founders of the TCWC, said that Alternatives and the TCWC updated them again due to the dramatic inflation rates the country has experienced over the past year.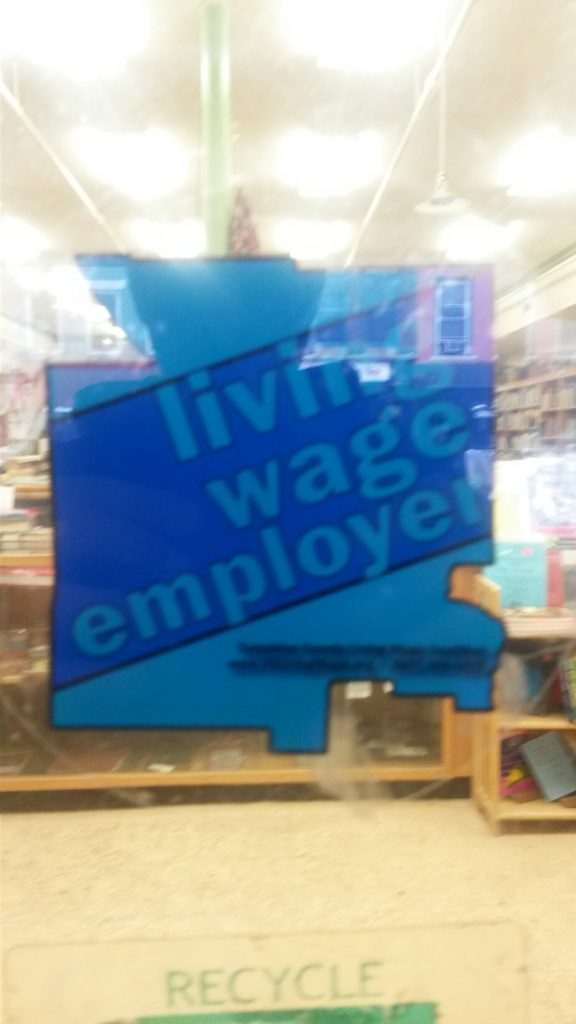 Meyers added that one of the TCWC's goals is to focus on helping the care industry provide a living wage — along with paying the living wage rate, the employers must adhere to additional conditions like not breaking labor laws and staying up to date on health and safety standards.
Certified living wage employers are also given a year to "catch up" to the updated rates set for the county, so this increase in wages may take a little while for some businesses to meet.
The TCWC cites Tompkins County as one of the most expensive places to live in upstate New York, and the state's Federal Reserve identifies the area as having higher income inequality than the rest of the upstate region.
While living wage is not enforced or required, many employers choose to become living wage certified within the community. The full list of the 118 living wage employers can be found here.
The latest study from AFCU found that expenses in the county total, on average, $2,878.07 a month, assuming $1,127 for rent, $256 for food, $536.67 in taxes, plus other living expenses including transportation, healthcare and insurance, savings, recreation, communication and miscellaneous categories.
Between 2021 and 2022, rent increased 7.54%, food increased 7.97%, transportation including driving alone, carpooling, public transit and biking increased 22.25%, miscellaneous needs like cleaning supplies, clothing, personal care and services all increased 7.11%, and taxes 11.59%. Healthcare, both insurance and out-of-pocket costs, decreased minimally by 2.78%.
Kevin Sullivan is a certified living wage employer at several of the restaurants he owns around Ithaca including Luna Inspired Street Food, Purity Ice Cream and the new Revelry Yards.
"Making sure our entire team earns a living wage is something we take great pride in," Sullivan said. "Inflation is not a simple thing to navigate for any business and all of the cost increases are certainly creating big challenges for us."
Sullivan also said that to recruit and retain staff in the hospitality industry, the wage structure must be "ahead of the local curve," and that the teams do the best they can to provide attractive benefits, though the employees have not yet been bumped up to the new living wage threshold. He added enthusiastically that applications are being accepted at his restaurants.
Greenstar is also a local living wage employer. New General Manager Jeff Bessmer said that the store was "created by Ithaca neighbors coming together to build a brighter future through starting a democratically owned food co-op." Part of that "brighter future" includes wages and benefits that support the employees.
Starting mid-August, Bessmer said, "substantial wage increases above the Tompkins County rate" will be rolling out for employees.
"No one should make less than a living wage," he said.
Tompkins Consolidated Area Transit, or TCAT, has been paying its employees at least $17 an hour for quite some time.
Patty Poist, communications and marketing manager for the transportation service, said that TCAT is "proud to say we continue to be a living wage employer even with this increase."
New bus operator trainees with no transit experience begin with wages of $22.79 an hour, mechanics get $25.88 an hour and bus handlers who clean and fuel the vehicles $18.93 an hour.