The Tompkins County Workers' Center is in the midst of creating a Wave that demands that the Minimum Wage be increased to a Living Wage (which is presently defined in Tompkins County as $14.34/hour).
To this end, the TCWC has created yardsigns (a tool that we've found to be fabulous to help create a new consciousness at grassroots levels). You can play a role by having one in your yard or window or wherever. The yardsigns look like this: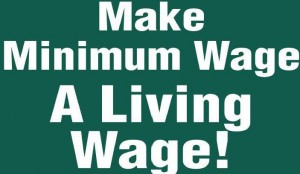 The yardsigns are 16 by 26 inches in size. They are available from the Workers' Center for a suggested donation of $5-$10 or whatever you can afford We want them up everywhere, so please do not let affordability get in the way of asking for one or more for free.