Antonio Triana and Ella Bard lead an Occupational Safety and Health workshop on Monday, August 3rd, for young farmworkers in Danby, NY, sponsored by the Tompkins County Workers' Center (TCWC) and the Midstate Council on Occupational Safety & Health.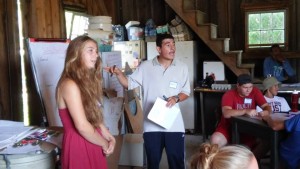 Triana earlier this spring was sent by the center to the Interfaith Worker Justice Train-the-Trainer program in Chicago. About two dozen high school aged workers with the Youth Farm Project took part in Monday's training (also shown are participants explaining how they mapped their worksite.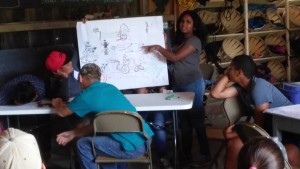 TCWC regularly holds worker safety trainings for a variety of workplaces and industries, with an emphasis on migrant workers and farming.