(ITHACA) The Tompkins County Workers' Center (TCWC) mounted simultaneous Fight for $15 Living Wage Vigils at fifteen (15) fast food restaurants throughout Tompkins County on MLK Day. About 75 living wage supporters and activists braved extremely cold weather to conduct the one hour vigils (3:30-4:30 at each location).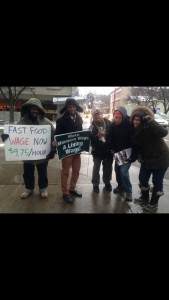 Four of the vigils were organized in collaboration with TCWC by supportive community organizations with participants exclusively from those organizations, including the Ithaca College Adjunct Professors Union and the Midstate Central Labor Council (McDonalds/Elmira Rd.), Ithaca Catholic Worker (Dunkin Donuts/Elmira Rd.), Labor-Religion Coalition (Five Guys/Taco Bell), Ithaca DSA (Chipotle), and the Ithaca Teachers Assn (Domino's-Gateway Plaza). A complete list of the locations is at the bottom.
At all of the locations team leaders first went into the restaurants to inform manager/workers of the action and also to ensure that all were being paid the newly mandated fast food minimum wage of $9.75. Information sheets were also provided. The response from managers/workers was uniformly positive (except Dunkin Donuts in Dryden). In some cases important conversations ensued.   Workers indicated that even at the new minimum wage or even higher wages earned by some managers ($12/hour for example in one case) it was not a living wage or enough to support a family. At all locations there were many honks and supportive indications from passing motorists. Lots of traffic at all sites.
At Moe's that only the shift managers were making the $9.75 but we were told that management was working on the adjustments. At Taco Bell one worker said she was still at $8.75 (newly hired) while others were making the mandated $9.75. She was given the TCWC number to call for follow up as needed.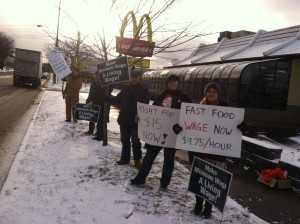 Two local government officials were among the participants, both County legislators – Will Burbank and Anna Kelles.
Media coverage included Ithaca Voice (http://ithacavoice.com/2016/01/10-photos-from-the-fight-for-15-rallies-monday-in-tompkins/), Ithaca Times (http://www.ithaca.com/news/mlk-day-living-wage-rallies-at-fast-food-restaurants/article_c25ab976-be26-11e5-812d-7f9e28e2bfb2.html), Time Warner Cable News (http://www.twcnews.com/nys/central-ny/news/2016/01/19/living-wage-vigils-promote-income-equality-in-ithaca-mlk.html) and WHCU Radio (http://whcuradio.com/news/025520-workers-call-for-higher-minimum-living-wage-mlk-day/)
Vigil Locations
Ithaca
Five Guys/Taco Bell, 222 Elmira Road, Ithaca Commons Plaza
Jimmy Johns, corner of Seneca and Aurora Sts.
Chipotle, 740 S. Meadow Street
Wendys, 326 Elmira Road
Moe's Southwest Grill, 324 Elmira Road
Dunkin Donuts, corner of Green St. and Route 13
Starbucks, corner of Seneca and Tioga Sts.
McDonald's, 372 Elmira Road
Burger King, East Hill Plaza
Dominos Pizza, 311 E. Green Street
Lansing
McDonald's, 2350 N. Triphammer Road
Auntie Anne's and Subway@ Shops at Ithaca Mall
Dryden
McDonalds, 51 North Street (Route 13)
Dunkin Donuts, 36 North Street (Route 13)
Trumansburg
From our press release
MLK Day Living Wage Vigils at Fifteen (15) Fast Food Restaurants Throughout Tompkins County
Local living wage activists will hold vigils simultaneously at fifteen (15) fast food restaurants throughout Tompkins County on Martin Luther King Jr. Day (January 18) from 3:30-4:30.
TC Workers' Center is organizing the vigils with three (3) objectives:
Ensure that all fast food workers in Tompkins County, along with their employers, are aware of the new $9.75 fast food minimum wage effective January 1, 2016;
Continue building a groundswell demanding that Tompkins County pass a law ensuring a Living Wage for ALL workers in the county;
Honor Martin Luther King Jr, and specifically his commitment to working people and to a living wage for all working people.
"No one who works all day and all week should find on the weekend that they don't have enough in their pocket to support themselves and their families," said Pete Meyers, TCWC Coordinator. "A full time job should not be a route to poverty, but a path to opportunity."
TCWC is campaigning to educate the community about the need, benefit and possibility of having a County Minimum Wage which is a Living Wage for all workers in the County.
Dr. King would approve: "For we know now," he once stated, "that it isn't enough to integrate lunch counters. What does it profit a man to be able to eat at an integrated lunch counter if he doesn't have enough money to buy a hamburger?"
"There is nothing but a lack of social vision," he said another time, "to prevent us from paying an adequate wage to every American whether he [or she] is a hospital worker, laundry worker, maid, or day laborer."
And a final quote: "Now the problem isn't only unemployment. Do you know that most of the poor people in our country are working every day? They are making wages so low that they cannot begin to function in the mainstream of the economic life of our nation. These are facts which must be seen. And it is criminal to have people working on a full-time basis and a full-time job getting part-time income."