Evangeline Sarat brings a powerful passion to operating her CSA, Sweet Land Farm in Trumansburg, NY. Being a Living Wage Employer is all part of her commitment to a truly healthy, sustainable community.

"I had no choice but to be a Living Wage Employer. I have a passion for farming, a vision of what life is. Being a farmer can be an all-consuming life. The employees allow me time to also have a life with my children, ages 7 and 12. They are helping me grow vibrant, healthy food in a healthy farming system. It only makes sense to me that they are supported. How could I not create opportunities for them to support themselves?"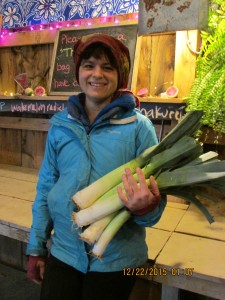 Her employees share her vision.
"Not only does Sweet Land grow amazing produce and work to make their products financially accessible, by paying a Living Wage, Sweet Land is a sustainable job creator. How many companies work to accomplish these three things? Being a member of Sweet Land Farm is more than just a share, it is an opportunity to have access to nutritious food while also supporting others in the community through having Living Wage employment and supporting a local food system that makes healthy food accessible to so many more. " Sasha Salayda

Sweet Land is located 9732 State Road 96, Trumansburg, and can be contacted at 607.793.1566 or sweetlandfarmcsa@gmail.com