(Ithaca) The Tompkins County Workers' Center is pleased to announce that we have now certified 104 employers as being Living Wage Employers, having just recently added the Town of Enfield on the western border of Tompkins County.
The Town of Enfield employs a total of 22 workers. This brings the total of workers, countywide, who are working for Living Wage Employers up to over 3,088 people. Additionally, the Town of Enfield joins the following government entities in Tompkins County as Living Wage Employers: City of Ithaca; Tompkins County; Town of Caroline; Town of Danby and the Town of Ithaca.
Says Ann Rider, Supervisor for the Town of Enfield, on why it was important for the Town to become Certified as Living Wage : "I believe that government should be leaders and this was one thing we can do to be a socially-conscious leader in the community."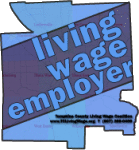 The Workers' Center initiated the Living Wage Employer Certification Program in 2006 to publicly recognize and reward those employers who pay a living wage. Any employer in the private, public, and non-profit sectors is eligible to apply. With your help, we can provide incentives for other employers in our community! Please go to https://www.tcworkerscenter.org/community/certified-employers/ to find out which employers are Living Wage-Certified, as well as to download criteria and an application form.