Saturday, March 26: 7 PM (social hour), concert from 8 to 10 PM @ First Unitarian Society of Ithaca (corner of  N. Aurora and E. Buffalo Sts. in Ithaca).

Suggested donation $10-$15-$20, no one turned away for lack of funds.
Free snacks; beer and wine will be available for a donation

A night of community and songs of social significance is planned for Saturday night, March 26. The concert will feature acclaimed topical songwriter David Rovics from Portland, Oregon, who tours the world singing and writing songs of struggle, Ithaca local George Mann, and others to be announced. (Check out the great Rovics song, Minimum Wage Strike.) David and George recently performed on the west coast leg of the "Joe Hill 100 Roadshow," a nationwide tour that featured the music and words of Joe Hill, executed in November 1915 in the state of Utah. David's music has been featured many times on "Democracy Now" and his songs are powerful statements on the issues of the day. Both he and George have a long history of singing and writing songs for the labor and anti-war movements.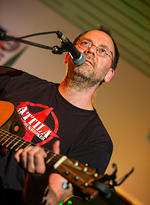 The evening will also be a chance for the Tompkins County Workers' Center to build support for its "Fight for $15" living wage initiative. TCWC representatives will speak briefly about the effort,  as well as workers from other local worker struggles. The event will start with a social hour, then move to the speaking and music part of the program. The program is cosponsored by the Social Justice Council of the First Unitarian Society of Ithaca.
Tickets available in advance through the Workers' Center (607-269-0409; 115 The Commons).