(ITHACA) The Tompkins County Workers' Center (TCWC) applauds today's historic decision to increase wages of the lowest paid NYS workers putting them closer to a Living Wage. Increasing the minimum wage upstate to only $12.50 (in five years), ​compared to $15 in the rest of the State, ​​​​however, is extremely disappointing. It repudiates the promise that Governor Cuomo made to these workers earlier this year and denies them the same chance to approach a Living Wage as all other workers in the state.
The TCWC began its own campaign for a Countywide Minimum Wage that is a Living Wage (presently $14.34/hour in Tompkins County) in the spring of 2015. Says campaign Organizing Committee Member, Milton Webb (a recycling worker at Tompkins County Recycling whose leadership helped him and his co-workers win a raise to a Living Wage last year): "Everyone everywhere in New York State needs to be making a minimum of $15/hour RIGHT NOW! No one can reasonably live on $9.75/hour."
"The incredibly high cost of living in Tompkins County translates into many workers falling far short of a family sustaining livelihood even with the increase. The TCWC will continue its efforts for a true Living Wage for all workers in Tompkins County, and will support the right of workers to organize for collective bargaining and against Wage Theft, especially as the minimum wage rises," said Pete Meyers, Coordinator of the TCWC.
Says Lorie Compton, a Direct Service Professional at the Franziska Racker Center in Ithaca and a mother of two: "I'm very disappointed that the wage isn't going up higher or quicker in Upstate New York. I make $11.40 an hour and can barely make ends meet. I have to pay rent. I have to buy groceries. Perhaps management should consider taking a cut in profit rates and excessively high managerial salaries so that other people who are doing the hard work can make a Living Wage, a wage we need just to survive!"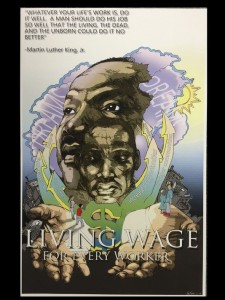 Says Erin Leidy, a longtime worker in various transportation industries, and a resident of the rural Tompkins County community, Dryden, NY: "Any increase is welcome but I think the timelines make the increases much less impactful. Additionally, I'm aware that the overall cost of living is higher in the city than upstate but that is primarily caused by rents. There are parts of upstate (like Ithaca) where the rental markets look more like parts of the city than people think. I feel like I have to live in Dryden because of the cost of rent in Ithaca."
Adil Griguihi, Owner of Casablanca Pizzeria in Ithaca says: "If they give an increase to New Yorkers, it should be the same increase at the same time for everyone. The rent is expensive in Tompkins County; EVERYTHING is expensive here. Even $15 is not enough. But the State should also be figuring out a way to help small business owners pay this wage. "
"It's important for us to remember that a Living Wage is defined at what Minimum Wage should be, on a local level, based on real costs to live," says Rob Brown, staff person for the TCWC. "While the State's new three-tier plan recognizes that New York City is an especially expensive place to live, it falls short of acknowledging that the same is true in Upstate communities. Tompkins County has been in the national news this past year for being one of the most expensive places in the US, not just NY, for health insurance, housing, and other costs of living. We need local leaders in the workforce, in business, and in government to stand up and show that we can also lead in making sure our neighbors earn what they need."