(Ithaca) The Tompkins County Workers' Center is pleased to announce that it has now recognized 107 area businesses and organizations as Certified Living Wage Employers, with the addition of an historic non-profit and an anchor union in the Ithaca community, and the nine workers at these organizations.
The History Center in Tompkins County traces its origins back to 1863 when Ezra Cornell founded Ithaca, New York's first historical society. While it has evolved through many guises and incarnations during the 153 years since, it represents successive generations of people who have worked together to preserve and share this community's local history.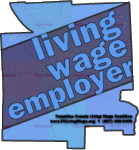 Rod Howe, executive director for the History Center, explains that this perspective is part of why the Center chooses to be a Living Wage Employer. "As an organization that collects history, including folks who have any number of occupations over time, we are cognizant of not wanting to be recorded in our own collections as not paying our employees a livable wage that helps them live today and plan for their future." While the History Center has paid a living wage for some time, they knew it was important formally to become a part of the Living Wage Employer program, too. "The board felt it was very important to know that we value employees. We may not be able to offer all the benefits that we want, but a full Living Wage is at least what our staff is worth."
The International Brotherhood of Electrical Workers (IBEW) Local 241 in Ithaca has a long and proud heritage of members and their families making sacrifices that continue to benefit members – and support workers in the community generally – today. Although Local 241's charter dates to 1922, they are successor to Ithacan IBEW unions beginning in 1903. Expressing the union's history of progressive leadership, Stacey Black, business development coordinator says "IBEW Local Union #241 is proud to be considered a living wage employer in our community. We encourage other employers to join with us in support of paying their employees a living wage as well."
The Tompkins County Workers' Center's Living Wage Employer Certification program is the first of its kind in the United States, and has been a model for many other communities' initiatives. The program publicly recognizes and rewards those employers who pay a living wage (defined as "A wage level that allows the earner to afford adequate shelter, food and the other necessities of life," presently $14.34 per hour in Tompkins County according to Alternatives Federal Credit Union's extensive biennial Living Wage study). Any employer in the private, public, and non-profit sectors is eligible to show leadership in promoting a fairly paid workforce and apply for living wage certification.
With your help, we can provide incentives for other employers in our community! Please go to https://tcworkerscenter.org/community/certified-employers/ to find out which employers are Living Wage-Certified and download criteria and an application form, or contact Rob Brown, Worker's Center office manager, at 607-269-0409 or rob@tcworkerscenter.org.