Press Conference: Thursday 12 noon @ Ithaca College, Public Invited!

 Ithaca, NY – After negotiating with the Ithaca College administration for 15 months, IC contingent faculty members say the college administration has still not engaged in any substantive discussion on the value of "equal pay for equal work" at Ithaca College. They also have concerns around the lack of security in the teaching assignments of full time contingent faculty. On Tuesday, the Contingent Faculty Bargaining Committee presented a white paper, which can be seen here: "Standing Up for Equal Pay for Equal Work" to the Ithaca College Faculty Council outlining their concerns: part-time non-tenure track faculty at IC are paid a small fraction of what their full time colleagues earn. The paper makes the case for why the disparity is a moral issue that negatively impacts students and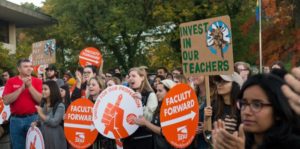 faculty.
The Contingent Faculty Bargaining Committee hopes the college administration begins to show a willingness to engage in a serious discussion with real proposals that address contingency and Equal Pay for Equal Work, but at this point no such thing has occurred. The bargaining committee has received significant support from local labor leaders, elected officials, tenure track faculty, students and community allies. They will be announcing that they will consider a strike vote early next semester if an agreement is not reached before then.

WHO: Leaders of the Ithaca College Contingent Faculty Union/SEIU Local 200United; Ithaca College students and faculty; Coordinator of the Tompkins County Workers Center, Pete Meyers; Representative of the Tompkins County Legislature 2nd District, Anna Kelles.
WHAT: Press Conference Releasing White Paper, "Standing Up for Equal Pay for Equal Work"
WHEN: Thursday, December 8th at 12:00PM