As of December 31st, 2016, the New York State Minimum Wage increases significantly. Fast food workers in Tompkins County and throughout the upstate areas must be paid at least $10.75/hour (a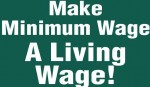 $1 increase). All other workers must be paid at least $9.70/hour (an increase of 70 cents).
The fast food minimum wage applies to chains that have 30 or more locations nationwide and that primarily serve food or drinks, whether as eat-in or take out (so typically without full table service). Local examples are: Chipotle, Dunkin Donuts, KFC, McDonald's, Pizza Hut, Starbucks, Subway, Taco Bell, Wendy's and others.
The coming year will be the first time ever that the general minimum wage will differ throughout NYS. While $9.70 "upstate," it will be $11 in NYC (11 or more employees; $10.50 otherwise) and $10 in Westchester and Long Island. These minimum wage rates will continue to rise over the next few years, but the differential between upstate and elsewhere will worsen. Between 2017 and 2021 the upstate minimum wage will only rise by less than a third, while in Westchester and Long Island it will increase 40%.
The Tompkins County Workers' Center continues to organize for a Living Wage for all workers in Tompkins County (sign the petition here) and to object to this discrimination against hard working Tompkins County community members. There is no justification for it. The cost of living in Ithaca is significantly higher than elsewhere upstate and is commensurate with the New York City suburbs. Yet we are being treated as "second class citizens."