Anne Marshall, RN, and another RN who chooses to remain anonymous at this point, were terminated by Cayuga Medical Center (CMC) last fall ostensibly for a medical policy violation. Given that Anne has been a leader in the campaign to form a nurses' union at CMC, and this policy has been rarely and inconsistently enforced, it's likely CMC fired her for her union activities.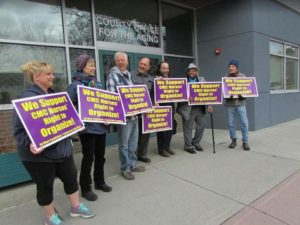 A National Labor Relations Board (NLRB) court hearing is underway again in Ithaca to hear Unfair Labor Practice charges against the hospital mere months after CMC was found guilty of Unfair Labor Practices against nurse-organizers in October, 2016.
Anne needs our support. The hearings restart on the Unfair Labor Practice charges will restart beginning Monday, February 28th at the Administration – Crash Fire Rescue (CFR) building at the Ithaca -Tompkins Regional Airport, 72 Brown Road, Ithaca, New York 14850 from 1 p.m. – 6:00 p.m. (The Labor-Religion Coalition of the Finger Lakes is organizing carpools to the hearings, since they are spread out to three different venues in Ithaca. See below for schedule.) If you want a ride to the hearings or can offer a ride, please contact Moira at 631-245-3133 or moirasjp@optimum.net Also indicate how long you want to stay at the hearings, so we can better coordinate rides.
Previous Federal labor charges against CMC were upheld, with the administrative law judge agreeing that the hospital had engaged in "an assortment of unlawful threats, directives, and prohibitions on union activities" including unlawful disciplinary warnings, suspensions, demotions and adverse performance evaluations. But the new charges – illegally terminating employees – are perhaps more serious and important.
Week 1:
February 27 & 28, and March 2: Administration/Crash Fire Rescue (CFR) building at the Ithaca -Tompkins Regional Airport, 72 Brown Road, Ithaca, New York 14850   1:00 p.m. – 6:00pm on the 27th. 8:30 a.m. to 6:00 p.m. on the 28th and March 2nd
March 1 & 3: Tompkins County Courthouse, 320 N. Tioga Street, Ithaca, NY 14850    8:30am – 4:30pm
Week 2:
March 6 & 7: Administration/CFR building at the Ithaca- Tompkins Regional Airport     8:30am – 6:00pm
March 8, 9, & 10: ILR Conference Center in King-Shaw Hall, Cornell University Campus, 140 Garden Avenue, Ithaca NY  14853    7:30am – 8:00pm