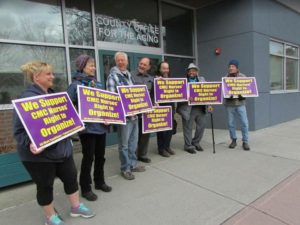 On March 22, 2017, United States District Judge Thomas McAvoy granted an injunction requested by the National Labor Relations Board (NLRB) and ordered Cayuga Medical Center (CMC) to reinstate two Registered Nurses to their former jobs, pending a final administrative court decision on charges of Unfair Labor Practices by the hospital. (To read the decision in full, go here: https://tcworkerscenter.org/wp-content/uploads/2017/03/Order-to-Show-Cause-Granted.pdf )
In October, 2016 CMC fired RNs Anne Marshall and Loran Lamb, both of whom are outspoken supporters of efforts to form a nurses' union at CMC. While the hospital claims they were fired for not following protocol in the Intensive Care Unit, other ICU nurses have testified that their actions have long been common practice and that only the union organizers were fired for it. This week's court ruling cites allegations by the NLRB that these nurses also said this during the hospital's investigation of the incident, but were then encouraged by the investigator to testify otherwise. Other nurses have pointed out ironically that they regularly have to "cut corners" because of the short-staffing that is one of the unionizing nurses' foremost issues.
"I am happy that justice has prevailed and am looking forward to returning to caring for patients," says Marshall. She also looks forward to revitalizing the unionization campaign, which has suffered thanks to other nurses fearing for their jobs after the union organizers got fired.
The court has ordered that both nurses be reinstated within five days, that CMC post copies of the order while the Unfair Labor Practice hearings are ongoing, and schedule a meeting on paid work time "to ensure the widest possible attendance" at which a hospital official, or NLRB agent if CMC prefers, must read the conclusion of the order to those present.
This injunction does not constitute a ruling on whether the firings, or other behavior laid out in charges currently before an Administrative Law Judge, are Unfair Labor Practices. Instead it is intended to preserve status quo and prevent irreparable harm given that the court has "reasonable cause to believe that a Board decision finding an unfair labor practice will be enforced by the Court of Appeals." Court hearings into these charges will restart at Tompkins Regional Airport on April 3.