On Monday, April 30th, the Tompkins County Workers' Center (TCWC), along with waitstaff, bartenders, customers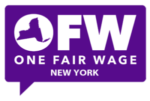 and an Human Resources expert, attended one of a number of hearings being held throughout New York that are being held by the NYS Dept of Labor to study the possible ENDING of the sub-minimum wage for tipped workers.
Six people from Tompkins County, NY testified at the hearing in SUPPORT of ending the sub-minimum/tipped worker wage (and can be heard in the SECOND video below). Those people include:
Jazmine Straus, a bar back at a restaurant in Ithaca, speaks at 3 minutes, 20 seconds;
Lily Cramer, a waitstaff person at Ithaca restaurants, speaks at 6 minutes, 0 seconds;
Rose Batt, a professor in the Cornell University's Industrial and Labor Relations Dept, speaks at 9 minutes, 35 seconds;
Shoshe Cole, a customer of restaurants who lived in Australia for 10 years where there are NO tipped wages, speaks at 12 minutes, 50 seconds;
Roland Coggin, a bar manager at a local Ithaca restaurant, speaks at 14 minutes and 35 seconds;
Pete Meyers, coordinator of the Tompkins County Worker's Center, speaks at 17 minutes and 10 seconds.
Here is the first portion of the hearing which was recorded in it's entirety (5 hours) by the TCWC.
The second portion of the Hearing is here, and where 6 Tompkins County workers (see above) testify about the need to END the sub-minimum wage.