It took over a year, but workers won a victory when a Federal arbitrator ruled yesterday that Cornell violated the law in its zeal to defeat graduate student organizing efforts in March 2017. [The Tompkins County Workers' Center, as a community labor organization, has strongly supported the Cornell Graduate Students United (CGSU) for the past several years.]
The union election for 2,500 teaching and research assistants was poisoned by University administrators just before graduate workers went to the polls, when a mass email threatened the possibility of reduced employment should the union be voted in.
There were 856 votes cast in favor of CGSU and 919 against, with 65 challenged and 16 unresolved ballots. The challenged ballots have yet to be examined. Before the vote, a majority of Cornell graduate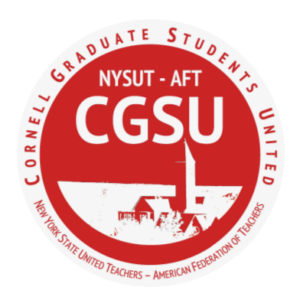 employees signed a petition supporting the union and calling for an election.
"The Cornell administration's violation of labor law shows its lack of regard for labor rights and shared governance. The university depends on the labor of graduate student workers, who teach, grade and conduct research," said Johnnie Kallas, a first-year graduate student at the School of Industrial and Labor Relations."
Aubrie James, a fifth-year Ph.D. candidate in ecology and evolutionary biology, added: "I feel relieved that we have a path forward for how to resolve last year's election. We are working so hard in organizing for labor rights at Cornell, and this decision is another thrust forward in those efforts.
Randi Weingarten, president of CGSU's national affiliate, the American Federation of Teachers, and a Cornell ILR alumna, said: "A great university like Cornell should hold itself to high ethical standards, not be so fearful of its graduate workers having voice that it would resort to the kind of illegal misconduct that union-busting employers are known to do. That is particularly true when it is the home of one of the most prestigious schools of labor relations in the world.
"Rather than follow the agreement it reached with its graduate employees on how to conduct itself during a union election campaign, or listen to its own ILR school, the Cornell administration embarked on an illegal campaign of misconduct to chill grads' free choice. We are grateful to the arbitrator for calling out Cornell's violation of law and to the CGSU Organizing Committee for wanting justice to be served. Unfortunately, this misconduct has had its consequences, as justice delayed is often justice denied. At the same, we will continue to support CGSU, and we are confident that grads will soon win the union they've dedicated the last four years to building from scratch."