This year as part of our Make the Minimum Wage a Living Wage Campaign we are going to March in the Ithaca Festival Parade on Friday, June 1st, starting at 5:45 p.m. We're going to have a really fun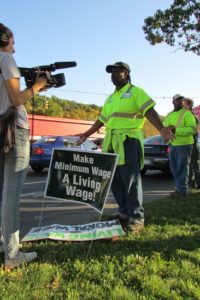 time and we hope you can join us!
Special guests marching with us will include the Ithaca City School District Education Support Professionals (ESPs)/Ithaca (formerly known as Paraprofessionals). ESPs include Teachers Aides, Teaching Assistants, and Bus Aides who are once again fighting for a Living Wage as they did 17 years ago for the tremendous work they do. Come show your support!
We need:
1. People to March with us & hand out literature on June 1st, starting at 5:45 p.m. on N. Cayuga Street in Ithaca.
3. Props. We need all kinds of props to show different kinds of work and also baseball caps that we will write our professions on. You can drop these off at the Workers Center or email for pickup.
4. To multiply. Please share the Facebook event with your friends and be sure to bring a date!
5. Please consider supporting our work by getting an early jump on our TCWC participation in the Giving Is Gorges campaign and sharing with your friends and family!
SIGNUP HERE: https://www.volunteersignup.org/HWPHD