The Tompkins County Workers' Center is a charitable not-for-profit organization headquartered in Ithaca, New York. It mostly serves workers in Tompkins, Cortland and adjacent Counties, but its programs support people throughout the Fingerlakes and Southern Tier regions and sometimes beyond. These programs include Living Wage advocacy, Occupational Safety and Health training or consultation, Worker Organizing, and the Workers' Rights Hotline. The Workers' Rights Hotline just turned 15 years old this May Day, and it just finished the most productive year in its history.
Any person who feels that they may have received unfair or illegal treatment at work can contact the Workers' Rights Hotline for support. They can reach out by phone, through email or social media, or visit the Tompkins County Workers' Center's (TCWC) office on a drop-in basis to seek help from the Hotline. TCWC's staff, supported by a small pool of volunteer Hotline advocates, work with Hotline users to evaluate their situation in detail. Advocates work from the principle that each person is in charge of their own situation and that TCWC's role is to meet people where they are at instead of judging what someone "should" do; provide information, advice and support; and, when such help is wanted, back up workers as they carry out their decisions about what to do in their situation. Some workers only wish to resolve their immediate problem. For others, the Hotline is also a gateway into getting more involved in the labor movement long-term.
TCWC helps workers understand their situation within the context of their legal rights and best practices in the workplace, and it helps people identify ways they can resolve their situation such as through direct communication with the employer, employer negotiations with a TCWC advocate present, organizing with co-workers to achieve positive change through concerted action, filing regulatory complaints such as to the Department of Labor or NYS Division of Human Rights or other offices, or seeking redress through the courts. TCWC does not provide legal representation. Although the practice is sadly rare, business owners or managers may also use the Hotline to learn about their legal obligations as employers or business best practices for creating workplaces that are both legally compliant and cultivate labor-positive policies and cultures.
The Tompkins County Workers' Center projected that the Workers' Rights Hotline would serve 300 workers during the past year. It served 441, a 136 percent increase over the program's previous record for most number of Hotline cases in a single year.
TCWC keeps records of each Hotline case, including the issues that users face at work. It is rare for any given case to involve only one problem; it is far more common for a worker to deal with a confluence of different issues, such as someone who is dealing with disability discrimination, barriers to using Family Medical Leave Act benefits, and inconsistent payout of wage supplements (like sick time and other benefits) at their workplace. Each employment situation is unique and the many permutations of how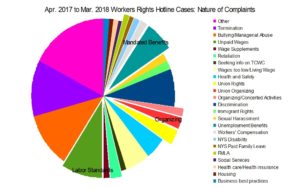 employers create exploitative or unfair environments ensure that despite the 28 categories of complaint that TCWC tracks on, more cases include some "Other" category of workplace problem than any other. The most frequent issues that come through the Hotline involve Termination (24% of cases), Bullying and Managerial Abuse (23% of cases), and Wage Theft (18% of cases). Other frequently occurring issues include Discrimination against employees who are members of a protected class, Unemployment benefits, earning poverty wages, Workplace Health and Safety, and various forms of concerted action. The most prevalent form of discrimination seen through the Hotline is Disability Discrimination, accounting for a third of all such cases.
Some of the problems that bring people to the Hotline are outright illegal. Others (like many bullying cases) are legal, but still indecent. TCWC emphasizes the power of working together with co-workers and neighbors to bring about cultural change.
TCWC also keeps records to allow it to get a feel for how common different workplace problems are in different sectors of employment. This isn't a complete picture: TCWC knows that far from every worker in the Fingerlakes facing exploitation comes to the Hotline. Despite this limitation, trends from the Hotline give TCWC insight that helps shape how it builds actions through its other programs to educate the public and seek to create positive changes. Taking Wage Theft as one focus area, TCWC has found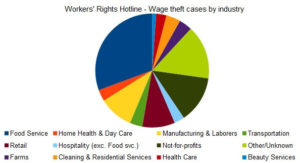 that food service workers (33%, with high incidence of minimum wage violations and tip theft) and employees of not-for-profit corporations (14%) are more likely to be victims of Wage Theft and to seek assistance than other workers in its area, followed by retail workers and (non-union) laborers (9% each). It plans community programs and actions about Wage Theft for businesses and workers in these sectors especially (but not exclusively).
People will often contact the Hotline focused on a particular problem but learn through interviews with TCWC advocates that their situation includes other factors they hadn't identified on their own. TCWC focuses on an interactive approach to cases that educates workers about their rights and critical evaluation of workplace situations and possible solutions so that they can make informed decisions about the course of action they wish to take. TCWC advocates emphasize ways workers can advocate for themselves and others in their lives now and in the future, while being sensitive to Hotline users' current circumstances and how deeply they wish to engage beyond solving their immediate problems.
Some example cases handled by the Workers' Rights Hotline during the grant period include:
Workers at Gimme! Coffee, contacted TCWC looking for information on how to organize a union. TCWC introduced them to union representatives, exerted its community influence to persuade the business owner to adopt a position of neutrality in any National Labor Relations Board election that they might seek, and educated both workers and management about collective bargaining. These workers successfully organized the first baristas' union in the United States within two months of contacting the Hotline. They now seek to organize other hospitality workers, especially in food service.
A server at Mia restaurant made a mistake at work and his manager withheld his tips for the day "to pay for the mistake." He contacted TCWC, and after consultation decided to talk to his manager directly to try to resolve the problem. He was paid his stolen tips, but the owner fired him for speaking out. He returned to TCWC and received help filing a complaint to NYSDOL over his retaliatory firing: he won an offer of reinstatement to his job and $3,000 damages.
A home health aide employed by a temp agency was upset that she was required to attend job training sessions provided by her employer unpaid. TCWC contacted the employer which now pays for all training time as well as on-the-job travel time, and catch-up hours for record-keeping, none of which it previously paid.