Over 350 people attended the Tompkins County Workers' Center and Midstate Central Labor Council's 35th Annual Labor Day Picnic @ Ithaca's Stewart Park on Monday, September 3rd. The Picnic organizers focused on the theme: Why a Union? Why a Living Wage?  Incredible music was provided by 'Alexander Bradshaw and the Labor Day Specials'.
Every year, a highlight is the awards through which the Workers' Center and Labor Council recognize the best and worst among us.
MOTHER JONES AWARDS: Named after legendary labor activist, Mother Jones (1837-1930), who once said: "Pray for the dead and fight like hell for the living. "Forced to support herself, when her husband and children all died, she became involved in the labor movement and helped to found the Industrial Workers of the World (IWW or "Wobblies"), in 1905.]

The two Mother Jones Awards were given to the following people: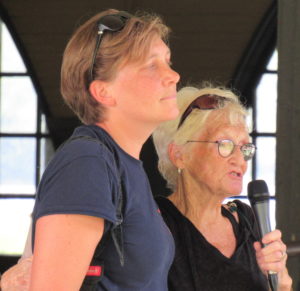 Sandy Ferreira, for her inspired work as an advocate for workers and residents at Beechtree Center for Rehabilitation & Nursing in Ithaca. Sandy accepted the Mother Jones Award expressing her conviction that it truly goes to the employees — from nurses to custodians — who show such dedication and care for the residents, and to other members of the family council with whom she organized this year as they became more powerful advocates within the facility;
Stephanie Hayes, for her tireless efforts advocating for her co-workers and others in the service and retail industries within which she works in Tompkins County. Stephanie embodies the belief that when you see injustice you must speak out, support one another, and work creatively to ensure our rights and dignity are respected. In addition to being a force of nature, she is a Community Union Organizer with the Tompkins County Workers' Center.
JOE HILL AWARDS: Named after legendary labor activist, Joe Hill (1879-1915). Hill  was a songwriter, itinerant laborer, and union organizer, Joe Hill became famous around the world after a Utah court convicted Hill of murder. Hill was then executed before the international campaign to exonerate him could play out.

The two Joe Hill Awards were given to the following people:
Xavier Rusk, for his lifelong dedication to advancing human rights and confronting injustice, from his

Xavier Rusk speaking as he receives the Joe Hill Award for his dedication to advancing human rights and confronting injustice in many different spheres of life. [Photo: John Illingworth V]

professional career (currently paralegal aide at the Tompkins County Office of Human Rights), to his personal work as volunteer board member for social justice organizations, active community involvement, and dedication to supporting exploited workers as a Tompkins County Workers' Center Workers' Rights Hotline worker advocate;
Michael Blodgett and Ashley Carman, for their commitment as father and daughter to make sure that all people can understand the virtual impossibility of living on low wages in Tompkins County, and for advocating for a Living Wage minimum wage. Residents of rural Tompkins County, they embody both determination and commitment to dignity for all. See Michael and Ashley sharing their message here.
The Friend of Labor Award

The Friend of Labor Award was given (see video here) to Hospicare & Palliative Care Services for their service to the Tompkins and Cortland County communities, and for providing a Living Wage (indexed to their highest offering of health insurance) to all employees in both Tompkins and Cortland Counties. Caregiving businesses and organizations that depend on state payments for services are some of the employers most challenged to pay fair wages, but Hospicare has shown that it can be done for many years running. This is the first time the Friend of Labor has been awarded to an employer in the 35 year history of the Labor Day Picnic. (See Strong Nonprofits for a Better New York https://www.strongnonprofitsny.org/ for more info on statewide efforts to change NY's funding for workers.)
The Goat of Labor Award is given to an especially egregious offender of workers' rights and/or the value of labor to our common good.