Give the gift of supporting the Tompkins County Workers' Center this holiday season. Â Your gift will be used to support our campaigns, workers' hotline, and ongoing operation. Just click on the Donate button BELOW to make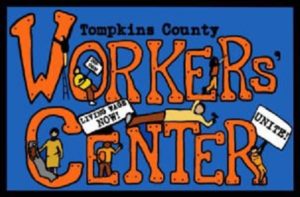 your gift and donation.

As a thank you for your donation, we'll send the Gift Card to the recipient of your choosing to let them know that you donated in their name. Or, if you prefer, we can send the Gift Card to you, and you can mail it directly. Â We can also send it via e-mail if you prefer.
The Gift Cards for the different donation levels are show here (all cards share a reverse):
$15.11 [$15.11 is the Living Wage in Tompkins County]:
$50:
$100:
Name your contribution:
Reverse: