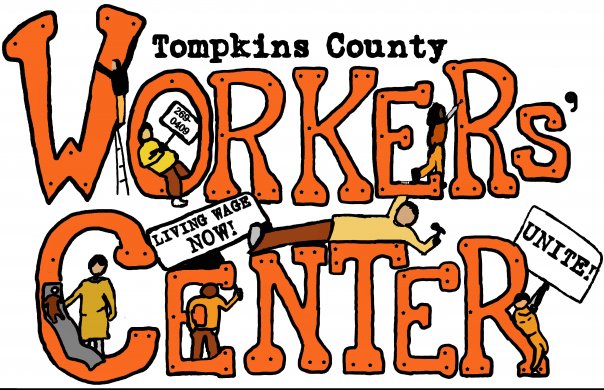 The Tompkins County Workers' Center (TCWC) is pleased to be offering a position of Community Organizer with our organization, which is made possible by a grant. If interested in applying, please consider not limiting what you put on your resume OR cover letter, as you are welcome to draw from lived experience! Including non-traditional experience.

Mission Statement
The Mission of the Tompkins County Workers' Center (TCWC) is to stand up with all people treated unfairly at work. We will support, advocate for, and seek to empower each other to create a more just community and world.

Position: Community Organizer
Time commitment: approximately November 15, 2020 – June 15, 2021. Beyond is contingent on continued grant funding
Wage offered: $17/hr
Hours/per week: One 20/hour a week position. Benefits include: vacation, holiday, sick pay and and health insurance

Desired skills:
Proven ability to interact effectively with a very diverse population from all socioeconomic backgrounds;
Ability to work collaboratively with staff team to promote mission and goals of TCWC;
Creative and self-directed with independent problem-solving skills;
Knowledge of and interest in workers' rights issues and community organizing;
Excellent verbal skills, with a willingness to speak publicly and/or learn to be an effective public speaker;
Initiative, reliability, and good organizational skills;
Computer skills – writing word documents, emails
Job Scope and Responsibilities:
Working under the direct supervision of the TCWC Coordinator, this position will perform the following Job Functions. The ideal applicant will prioritize and direct their activities and tasks to meet as many of the following objectives as time will allow.

Activities/tasks:
Raise community awareness of TCWC and avenues to workplace fairness
Handle at least 5-10 Workers Rights cases per month via phone/in person and work to turn into advocacy, empowerment, and movement-building opportunities;
Identify and recruit at least 25 new primarily low-income TCWC members with the potential for leadership and provide alternative opportunities for involvement and growth;
Help play support role in deepening a mobilization structure amongst TCWC Membership and the larger community;
Support workers' organizing in two new workplaces;
Help to establish and facilitate biweekly meeting structure with Community Union Organizers (CUOs) and others working directly with workers having workplace issues;
Recruit, organize, and train at least 10 low-wage workers to expand CUO leadership
Help to play a role in organizing the TCWCs Living Wage campaign when called upon.
To Apply:
Please submit a resume and cover letter by clicking on this link: https://forms.gle/u3kaW5ku23omF2aM9. Cover letter should specifically speak to how you would approach the position outlined above. Applications will be accepted on a rolling basis.