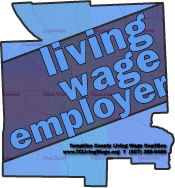 The Ithaca Marriott Downtown is our newest Living Wage Employer (LWE), duly certified by the Tompkins County Workers' Center. It's always good to welcome a new Living Wage Employer, but especially gratifying when the employer is large and and from an industry that typically pays very low wages. This means that all of Ithaca Marriott's 60+ employees, including housekeepers, desk staff, custodians, laundry attendants, restaurant workers and others are paid at least $15.37/hour.
Please support them by telling any family or friends visiting Ithaca to consider using this Living Wage hotel. And whether you intend to patronize the Marriott or not, you can also give a shout out to Cathy Hart <cathy.hart@marriott.com>, hotel General Manager, thanking her for this positive step.
Two other Ithaca hotels that also pay a living wage and can use your support are Argos Inn and Grayhaven Motel.