The Tompkins County Workers' Center (TCWC) is pleased to be offering a position of Operations Manager with our organization.
TCWC Operations Manager Job Description
'Together, creating a dignified and just workplace and society'
Position: Operations Manager
Location: Tompkins County Workers' Center (TCWC)
Schedule: 20 hours per week with flexible schedule, with potential for increased hours in the future. Position would be both in-person & remote depending upon circumstances.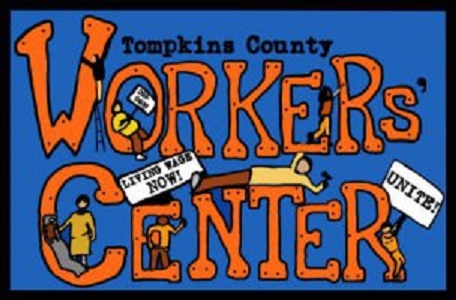 Overall Position Description:
The Operations Manager is an integral role at TCWC. Working under the direct supervision of the TCWC Coordinator, the Operations Manager provides administrative support, financial management support, and logistical support necessary to meet the goals of TCWC.

The Operations Manager is an active participant in helping TCWC achieve its mission of standing up with all people treated unfairly at work through support, advocacy, empowerment, and movement-building. As such, the Operations Manager is expected to become knowledgeable about TCWC workings and to serve on committees of TCWC as assigned.
Responsibilities
Administration and Office Management (80%)
Coordinate day-to-day administrative operations including organizational record-keeping, compliance, and database management:

Ensure timely entry of TCWC financial supporters into database;
Work closely with Bookkeeper to ensure the smooth functioning of the overall task;
File 990 reports;
Update personnel policies as needed to maintain compliance with NYS and Federal laws;
Serve as the point person for TCWC fiscally-sponsored projects;
Answer telephone, take messages, and interact with the public;


Assist in the management of the Living Wage Employer program:

Process Living Wage Employer applications and provide them to the Living Wage Employer Task Force (LWETF);

communicate strategic questions to Coordinator and LWETF that arise from within LWE program;


Manage use and maintenance of office, public space and equipment:

Serve as the primary point of contact for organizations renting space at TCWC;

Ensure that TCWC physical space calendar is up to date;

Ensure that the cleaning of the larger TCWC 'space' occurs on a weekly basis;

Ensure that all TCWC office equipment is functioning properly;

Make recommendations regarding equipment updating and replacement;

Inventory and replace supplies for office and restroom;


Provide administrative support to Coordinator in reporting to Leadership Team, developing and tracking administrative goals:

Partner with Coordinator, Function Team and Leadership Team to develop TCWC budget in advance of Fiscal Year and maintain monthly tracking reports of where TCWC is in relationship to budget;

Attend meetings and be an active participant in the TCWC Function Team;

Provide information to Coordinator, as needed, for reports to Function and Leadership Teams;


Help to process new memberships and ensure that all new members receive a New Member packet;

Manage details of TCWC Annual Labor Day Picnic, including applying for necessary permits, scheduling meetings of the Picnic Planning committee, and assisting in the creation and distribution of flyers and other advertising;
Resource Development (20%)
Assist Coordinator in the development and implementation of the annual fundraising plan and building organization-wide commitment to fund development;

Play strong partnership role with Coordinator in the development of annual Fundraising Plan;
Research possible grant sources and be creative in finding additional ways to raise money;
Write grant proposals to appropriate institutions for TCWC funding;
In conjunction with Coordinator, prepare various grant reports as needed;


Coordinate the mailing of newsletters, fundraising letters, coordination and managing of fundraising telethons;

Other duties as assigned.
Desired qualifications:
Demonstrated ability to interact effectively with a very diverse population from all socioeconomic backgrounds;
Interest in workers' rights issues and community organizing; and commitment to the mission of the TC Workers Center;
Creativity, reliability, and self-directedness with independent problem-solving skills and the ability to manage multiple tasks and priorities in a fast-paced environment;
Excellent written and verbal communication skills, including the ability to present information concisely and effectively to internal and external audiences;
Prior work experience in office administration and/or financial management;
Proficiency in database management, in addition to computer skills, including MS Word and Excel.
Useful qualifications:
Experience with a CRM system.
Prior experience with fundraising/fund development for a nonprofit organization, including experience and documented success in grant writing;
Compensation: $17-20/hr depending on experience, plus benefits, including health insurance
The position is grant-funded and contingent upon receiving future funding.
To Apply:
Please submit a resume and a cover letter by clicking on this link: https://docs.google.com/forms/d/e/1FAIpQLSdcD-aiImNB8f0B2xx_cP9N5X7IXVWcE-3XgYo4hr_6X7ZYKA/viewform?usp=pp_url. Cover letter should specifically speak to how you would approach the position outlined above. Applications will be accepted until the position is filled.